Diplomas
Receiving Your Diploma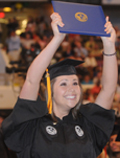 Diplomas are ordered after all degrees have been awarded. Degrees are awarded once all grades have been turned into the Office of the Registrar.
Please note it takes approximately 6-8 weeks
to receive your diploma.
An email will be sent to the student's UAH account once the diplomas have been ordered and then again after they have been mailed.

Students will receive their diploma via the mail so please make sure that your permanent mailing address is updated upon graduation.
---
Instructions
1.) Login to your Banner Self-Service account
2.)Then select Personal Information and Update Addresses/Phones
3.) Next, in the Type of Address to Insert drop down menu select Permanent Mailing Address and submit
4.) Finally, update your address/phone and submit.
5.) If you are not able to submit change online, please complete the address change form and submit it to Charger Central.
Address Change form (click here)
Charger Central
Univeristy Center, room 118
f. 256.824.7780
e. chargercentral@uah.edu

Proof of Graduation
Once degrees have been awarded students may request their official transcript through Charger Central as proof of graduation.

Dimensions
Doctoral diploma: 11" X 14"
Masters and Bachelor's diploma: 8.5" X 11" (as of Spring 2014)

Information Stated on Diplomas
Students Name
Graduation Date
Degree
University Honors (Undergraduates only)