Resources
Student Team Projects
The Propulsion Research Center staff support NASA's University Student Launch Initiative (USLI) competition that challenges university-level students to design, build and launch a reuseable rocket with a scientific or engineering payload. The USLI project allows students to engage in scientific research and real-world engineering processes with NASA engineers, UAHuntsville engineering faculty, and fellow students.
Students from Charger Rocket Works, a USLI team at the University of Alabama in Huntsville, successfully launched and recovered its Aethon Rocket at the NASA Wallops Test Flight Center on May 21, 2011 as the climax of the NASA University Student Launch Initiative – Level 2 Program. UAHuntsville was one of three universities in the nation including Mitchell State and Mississippi State tapped from among 15 universities to participate in this pilot program at the NASA Wallops facility. The overall objectives of the program was to build a sounding rocket that would achieve a maximum altitude of 10,000 feet, demonstrate a scientific payload, and be successfully recovered at sea.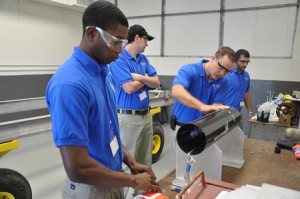 Members of the UAHuntsville Charger Rocket Works team prepare their rocket in the lab.
Professional Organizations and Societies
The Propulsion Research Center research staff, affliliated faculty, and students are involved with many professional organizations and societies that support their technical or research interests. The list below represents some of those core professional organizations and societies.