UAHuntsville's Propulsion Research Center gains national acclaim, again – Popular Science
Huntsville, Ala. (August 28, 2011) — The Propulsion Research Center at The University of Alabama in Huntsville has again gained national acclaim by being named the third "Most Awesome Lab in 2011" by Popular Science magazine as part of its "Best Places to Pursue Science" feature.
It was the second straight year UAHuntsville had received this honor from the national science magazine. The thrust of the university receiving this commendation revolves around UAHuntsville's University Student Launch Initiative.
"The Student Launch Initiative introduces students to the space flight mission profile of 'design, build, fly, analyze,' " said UAHuntsville professor John Gregory, who also serves as director of the Alabama Space Grant Consortium. "These types of programs teach students in an exciting way how set goals, design and build to those goals and then put their work to a real test.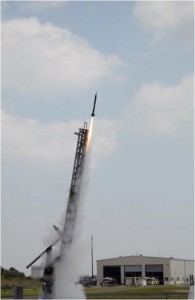 UAHuntsville Student Launch Initiative Aethon rocket
launching at NASA Wallops Test Flight Center, Virginia
"Also,students learn how to work together, to make trade-offs forced on them by time, cost and sometimes human constraints. They learn to formulate questions, rather than answering the professor's questions. Then they find the 'best' answer, when there are many answers and none to look up in the back of the book. These exercises go beyond their formal instruction, but in no way replace it, and prepare students for the post-college world in industry and government."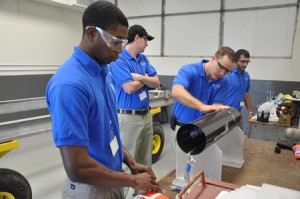 Members of the UAHuntsville Charger Rocket Works team prepare their rocket in the lab
Earlier this year, students from UAHuntsville successfully launched and recovered its Aethon rocket at the NASA Wallops Test Flight Center in Virginia as part of the NASA University Student Launch Initiative – Level 2 Program.
UAHuntsville was one of three universities in the nation including Mississippi State and Mitchell State tapped from among 15 universities to participate in this pilot program at the NASA Wallops facility. The overall objectives of the program was to build a sounding rocket that would achieve a maximum altitude of 10,000 feet, demonstrate a scientific payload, and be successfully recovered at sea.
The rocket left the launch rail at 10:31 EST under the power of a 800-pound thrust solid rocket motor, and 28 seconds later reached a maximum altitude of 12,321 feet. The recovery system deployed and the vehicle landed 1.4 miles downrange in the Atlantic Ocean.
"I think this is a fantastic program, giving students a hands-on opportunity to do things rather than just reading them from the book," NASA Wallops' Flight Project Manager Jack Viera said. "It's a priceless opportunity. I congratulatethe whole team for doing such a fine job. The UAH vehicle was quite unique. It
had lot of self fabrication and you could see the pride in the workmanship."
UAHuntsville's team successfully demonstrated a new non-pyrotechnic ejection system. This system successfully deployed the parachute using pressurized CO2 and a one-of-a-kind triggering system designed and tested by the students, according to Bob Frederick, an engineering professor and faculty advisor to the team.
Students oversaw all aspects of the design, manufacturing and testing of the vehicle in preparation for the Wallops launch. A team of 14 undergraduate and graduate students in Mechanical and Aerospace Engineering participated.
"This is a major success for UAHuntsville and how we instill the heritage of the Huntsville propulsion community into the workforce," said Dr. Frederick. " In less that 10 months, students went from having never launched a vehicle, to the successful design, fabrication, testing, safe launch, and recovery of a high-powered sounding rocket."
The project pursued a two-semester design sequence in the Department of Mechanical and Aerospace Engineering. Sponsors include the NASA Alabama Space Grant Consortium and the UAHuntsville Vice President for Research.
References:
Alabama Space Grant Consortium
Originial UAHuntsville News posting
For more information:
contact Ray Garner
256.824.6397
256.UAH.NEWS
ray.garner@uah.edu