About PRC
The Propulsion Research Center (PRC) conducts research, produces publications, and mentors students in advanced propulsion technologies and their applications.
The PRC connects the academic research community and propulsion community through interdisciplinary collaboration. Our state-of-the-art laboratories provide detailed assessments of liquid, solid, electric, and air-breathing propulsion devices – including cryogenic propellants.
We can assist you through basic research grants, contracts; SBIR/STTR's, and can operate in an ITAR/proprietary environment upon request.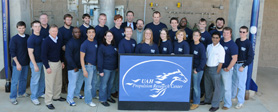 Donate Non-Cash Gifts to PRC (Equipment/Gifts). Please contact Dr. Frederick.
Donate Funds to PRC Online (Specify UAH Propulsion Research Center in Comments)