Procurement Card (P-Card) Program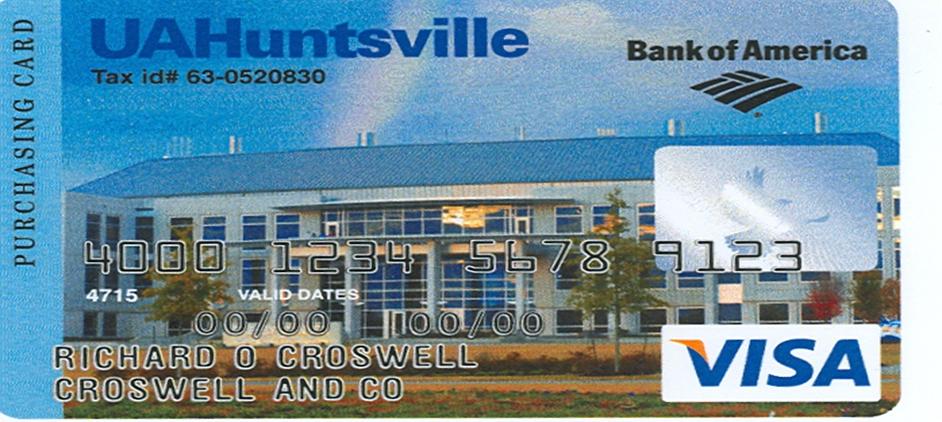 Welcome to the University of Alabama in Huntsville Procurement Card Program.
The card is one of the innovative new methods UAHuntsville has undertaken to acquire goods and services.
The Procurement Card program is the outcome of a work process initiated to design a procurement process that is simple and better serves the customer.
The Procurement Card is a VISA product administered by Bank of America. The Procurement Card has been implemented to provide departments with a more efficient system for purchasing and payment of small-dollar goods and services as well as travel.
Benefits:
Cardholders – Since vendors will be paid by Bank of America within 48 to 72 hours of each transaction, credit holds placed on the University campus will cease to occur. Departments will receive one hard copy of the credit card statement from the Bank each month for every Cardholder in place of invoices from each vendor with whom an order has been placed. The Procurement Card Program will significantly reduce the workload and processing costs related to the purchase and payment of ordered goods.
The University - A built-in card feature makes the program easy to control and manage and reduces processing costs at all levels by reducing the number of invoices and checks processed and empowering the individual to make purchases and allocate expenses as needed. It will enable Procurement Services and Accounts Payable to focus on higher yield, value added activities.
Vendors - The VISA Procurement Card will be welcomed by vendors who accept credit cards. Vendors will receive cash payment from Bank of America within 48 to 72 hours of the transaction. Vendors will experience a reduction of credit risk, reduced billing and collection costs, a reduction in the time and cost associated with credit checks, and there should be increased sales opportunities.
Contact us:
Phone: 256-824-1863
256-824-6515
Fax: 256-824-6151
Email: pcard@uah.edu