Assessing the Development and Maturity of the Enterprise Supply Chain
Assessment Model Development
The Office for Enterprise Innovation and Sustainability (OEIS) in the Research Institute at the University of Alabama in Huntsville (UAHuntsville) is developing a model to assess the development and maturity of the enterprise supply chain throughout the lifecycle.
The model will provide a means of objectively measuring total supply chain maturity, regarding adaptability and sustainability. The model can be used to design, configure and evaluate supply chains at any or all phases of the system lifecycle. The model framework contains objective criteria and is flexible enough to be utilized across multiple programs or across multiple agencies. In addition the model can then be used in supply chain configuration in order to develop push-pull boundaries within the supply chain, define optimum inventory levels at multiple tiers, reduce total supply chain WIP and improve overall supply chain performance.
Enterprise Supply Chain Assessment and Improvement Cycle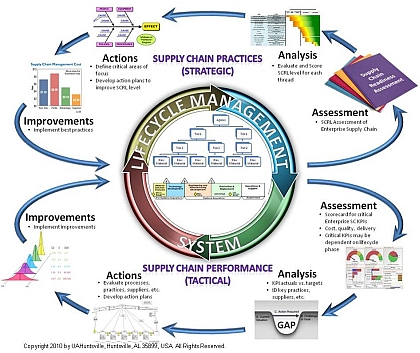 Supply chains must be continually assessed and improved to ensure expected performance throughout the enterprise and across the lifecycle. The above figure illustrates this continuous improvement cycle from both a strategic and tactical perspective. The lower half of the figure shows how operational performance of the supply chain is assessed through performance metrics, typically in a dashboard format. Actual performance is analyzed against targeted performance and actions are developed and implemented to for improvement. Performance metrics, however, measure past performance. Activities driving cost, quality and delivery have already taken place in order to measure their performance. It is necessary to have effective supply management practices in place to prevent poor performance and promote excellence. The upper half of the diagram shows how supply chain practices are assessed, analyzed and improvements made in parallel with the tactical perspective. These foundational practices must also be regularly assessed and developed to the level of best practices, as well as be adjusted for the lifecycle phase of the system to reach and sustain optimal enterprise supply chain performance.
Model Development Approach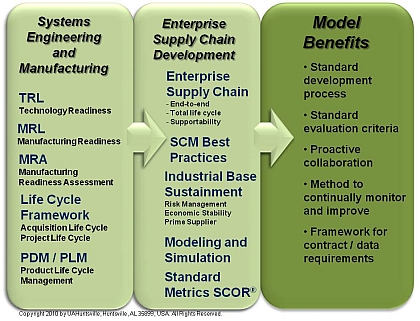 The above figure illustrates the approach taken in developing the SCRL model. Existing systems engineering methodologies are merged with enterprise supply chain management best practices and technologies to create a standardized, broad, robust supply chain development and evaluation tool.
Benefits of developing model include:
Creates standard assessment and construction

Concurrently addressing supply chain strategies in a consistent fashion
Risk mitigation can begin in the earliest phases and lifecycle costs can be assessed and controlled

Promotes proactive collaboration

All participants are encouraged to develop collaborative structures and relationships
Improved visibility and coordination throughout supply chain

Enables continuous improvement

Identify opportunities for improvement
Assess and adapt the configuration and practices of the supply chain as conditions and customer requirements change

Provides framework for creating contracts, policy, and data requirements

Contract: Information needed, timing and sources; performance criteria
Policy: Need for ESCM (project, program, agency)

Provides best practices, metrics, and data requirements for each supply chain initiative or strategy