The Enterprise Supply Chain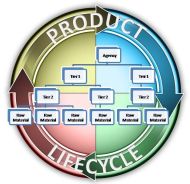 The enterprise supply chain is a network of entities that work together to deliver and support products with cost, quality, schedule and technological features that meet or exceed customer requirements and competitor's offerings. The enterprise supply chain is most effective when it functions as an integrated, agile, adaptable and aligned network to meet these objectives.
Since the ultimate success of any supply chain is dependent on activities at every level in the chain over the entire life of the program, an enterprise approach should encompass all levels of the total supply chain and all phases of the total product or mission lifecycle.
The Dynamics of Enterprise Supply Chains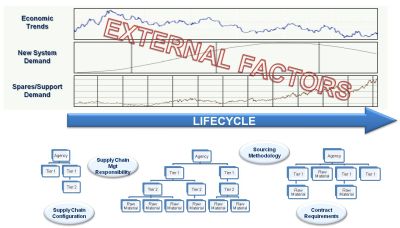 The enterprise supply chain must be viewed along there two dimensions with at least the following functions and benefits:
1. Total Supply Chain - from raw materials to customer:
Visibility of the total supply chain enables effective information flow, improved risk mitigation and allows for strategic sourcing across multiple programs and organizations.
Supply chain performance is evaluated and improved from the enterprise perspective rather than sub-optimizing elements of the total supply chain.
Supply chain modeling considers the business processes, performance, objectives, and costs or all supply chain entities.
Inventory can then be strategically evaluated and placed to optimize the total supply chain performance.
2. Total Lifecycle - from initial product concept through retirement at end of life:
Product and supply chain design should consider and seek to reduce total lifecycle costs.
Supply chain configuration is evaluated and adapted to changing requirements throughout the product lifecycle.
Supply chain managmenet and business processes are planned and adapted to meet the demands of the changing lifecycle (e.g. contract requirements, spare parts planning, reverse logistics).