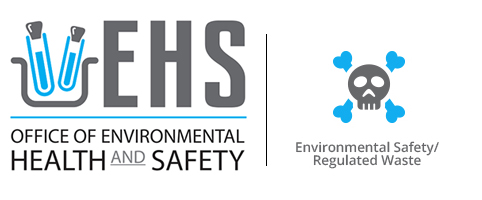 The Office of Environmental Health & Safety - Hazardous Waste Division - is dedicated to ensuring proper management and disposal of all hazardous wastes generated by research, teaching and facilities operations at The University of Alabama in Huntsville (UAH). Safe and environmentally sound management of hazardous waste is an integral part of the UAH – OEHS commitment to environmental stewardship. UAH is the first university in the state of Alabama to opt into the Resource Conservation and Recovery Act, Subpart K for academic institutions. These commitments allow UAH to meet and exceed compliance obligations concerning federal, state, and local regulations pertaining to the management of chemical hazardous waste.


OEHS provides assistance to laboratories and departments who generate hazardous waste. We provide training on hazardous waste management and regulate the proper handling and accumulation of all hazardous waste. The OEHS is also responsible for designating all chemical waste as hazardous according to EPA regulations. The service we provide is FREE of charge to all individuals who work at UAH and generate normal waste.


Responsibility for compliance with hazardous waste regulations begins with the individual researchers and employees who generate the waste material, and continues through the transportation and disposal process.


The term chemical waste refers to any material used that could be a commercial, industrial, or laboratory waste. "Hazardous waste" refers to any material designated as a hazardous waste by the Environmental Protection Agency (EPA). Hazardous waste may include, but is not limited to, undesired or outdated chemicals, spent chemical solutions, paints, photography and printing solutions, chemically contaminated debris or media, electronics devices, fluorescent lamps, and batteries. Determining if a chemical waste meets the regulatory definition of a hazardous waste can be difficult and requires specific training. Therefore, it is UAH policy that all staff assumes that all chemical wastes are hazardous and must be managed by the Office of Environmental Health & Safety (OEHS). Because of the technical nature of hazardous waste determination, the terms "chemical waste" and "hazardous waste" are used synonymously throughout the documents.


Hazardous waste regulations are strictly enforced by both the EPA and the Alabama Department of Environmental Management (ADEM). UAH is a generator of hazardous waste and is subject to stringent hazardous waste management regulations. The disposal of hazardous waste requires a system of policies and procedures to protect human health and the environment, and to ensure compliance with governmental regulations. It is essential that each individual that generates hazardous waste at UAH comply with the rules, policies, and procedures detailed in the appropriate document. These documents and guidelines describe the proper use and handling procedures to be followed by all faculty, staff, and other personnel working with chemical waste in all settings at UAH.


Lab Services Schedule – Chemical Waste Pick-ups and Clean-Outs
Forms
Manuals
Quick Information
Responsibilities