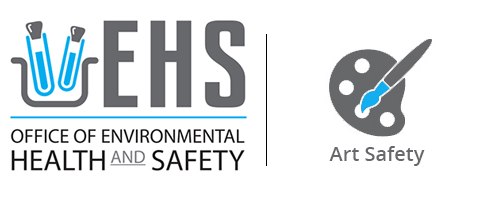 Work in the arts and entertainment - including the visual and performing arts - can involve health risks such as exposures to toxic materials and hazardous physical conditions. Injuries and repetitive motion disorders can also result. Musicians may be exposed to hazards that impair hearing.
The creation of art can lead to the development of regulated waste material that must be handled as hazardous or as a non-traditional waste stream. The UAH – Office of Environmental Health & Safety is committed to ensuring guidance is provided for the management of environmental health & safety hazards in the arts. Links to useful information are provided below.
Training for general hazards associated with art studios can be acquired HERE. Applicable training must be taken by employees as designated by their supervisors and can be used by faculty and staff as a training tool.
Documents produced by the College of Liberal Arts for the Safety of faculty, staff, students and visitors:
Art Studio Safety Contract (pdf)
This contract must be reviewed and used as aa safety guidance document for students prior to beginning work in Art Studios. The document must be signed and retained in the instructors files.
Facility Stewardship and Safety Policies (pdf)
Foundry Safety (pdf)
Shop Safety, Power Tools - Book I (pdf)
Shop Safety, Power Tools - Book II (pdf)
Ergonomics
If your studio produces paint, acetone, mineral oil, toner, photography waste, et al., your waste may be regulated. Contact the OEHS at 824-6053 for more information.
The US Environmental Protection Agency commissioned the Pratt Institute to develop technical assistance for environmental health & safety in the arts. This document is useful for the proper management of waste and residues generated in art studios.
Environmental Health & Safety in the Arts: A Guide for K-12 Schools, Colleges, and Artisans (pdf)