Beta Phi chapter of Sigma Theta Tau Fall Scholarly Event Report
Beta Phi chapter of Sigma Theta Tau held a Fall Scholarly Event, October 29 & 30 at the College of Nursing entitled, Inspiring Lifelong Scholarship in Nursing. Dr. Ellen Buckner was the keynote speaker. Dr. Buckner is a Professor at the University of South Alabama and a Regional Coordinator for Sigma Theta Tau International. Her area of nursing research is quality improvement, nursing shared governance and nursing engagement. Mr. Mark Reynolds and Dr. Brenda Talley also presented at the event.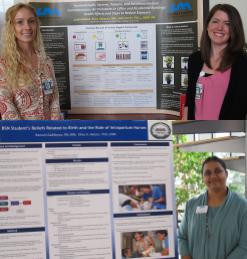 Three students presented poster presentations. First place winners were Lydia Adams and Kelly Vasquez, undergraduate honor students. Their poster was entitled, Formaldehyde, Styrene, Toluene, and Perchloroethylene; Common Indoor Air Pollutants in Office and Residential Buildings: Health Effects and Steps to Reduce Exposure.

Second place winner was Ramani Gadikoyya, CNS student for her scholarly project, BSN Student's Beliefs Related to Birth and the Role of Intrapartum Nurses.
A professional poster was submitted by Sherri Messimer, Ph.D., Sampson Gholston, Ph.D., Mary M. Hays, DSN, RN, Shelia Dyas, MBA, Eric Greenfield, DO, Swati Thotakura, MD entitled, Continuous Improvement of an Emergency Department using an Interdisciplinary Team