NAHEC Workshop Report: Sowing Seeds of Knowledge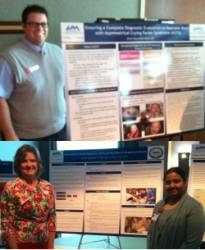 On Friday, August 30th 2013, the North Alabama Health Educators Council conducted a workshop entitled "Sowing Seeds of Knowledge". One faculty member and 12 masters students from the College of Nursing presented posters at the workshop:
Mark Reynolds, Faculty, presented Ensuring a Complete Diagnostic Evaluation of the Newborn with Asymmetrical Crying Facies Syndrome.
Ramani Gadikoyya, GTA and MSN student, and Ellise Adams, Associate Professor, presented BSN Student's Beliefs Related to Birth and the Role of Intrapartum Nurses. This poster won First Prize at this event. Evaluation criteria included content, conclusions and graphic presentation.