Nursing, engineering blend to seek greater healthcare efficiency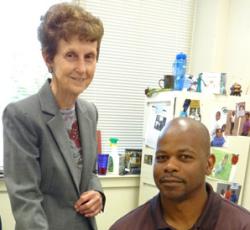 James Steele | UAHuntsville
Dr. Peggy Hays, left, and
Dr. Sampson Gholston.
Huntsville, Ala. (May 6, 2013) - Blending the healthcare profession and systems engineering, two professors at The University of Alabama in Huntsville are applying manufacturing efficiency systems to healthcare settings to promote better patient satisfaction.
Dr. M. Peggy Hays, associate professor in the UAH College of Nursing, and Dr. Sampson Gholston, associate professor in Industrial and & Systems Engineering and Engineering Management, are incorporating research they've done at a local healthcare facility to develop a proposed UAH course to teach healthcare professionals about using industrial Lean Six Sigma practices in their facilities.
"What we're finding is that hospital administrators either learn Lean Six Sigma, or they go out and hire people who know Lean Six Sigma in order to apply their experience to a hospital setting," Dr. Gholston said. The goal of the new course would be to train existing administrators and nursing staff to interpret data and implement process changes that improve efficiencies and boost patient satisfaction.
"Nursing staff today have more and more duties," said Dr. Hays. "How can they make their job more efficient so they can focus on patient care, which is why they got into the profession in the first place?"
"What we're saying is, we're not trying to make you into a robot but this is a more efficient way of doing it," said Dr. Gholston. "Dr. Hays knew the healthcare side and I know the process efficiencies side, so we can work together to improve healthcare processes."
Lean Six Sigma is an industrial managerial system that aims to eliminate process waste in the forms of transportation, inventory, motion, waiting, overproduction, over-processing and defects. Healthcare applications could open new fields for UAH graduates in systems engineering and nursing who become proficient in applying the system.
"As an industrial systems engineer, I usually talk a lot about making widgets," said Dr. Gholston. "Manufacturing is on its way back, but there are a lot of opportunities for Lean Six Sigma in the service industries, and healthcare is a very big service industry. The worst thing I could do with doctors and nurses is to talk about widgets. They appreciate every patient's uniqueness. But this system can show them how to be more efficient while they treat that patient."
DATA OVERLOAD
Because facilities have grown so good at gathering it, Dr. Hays and Dr. Gholston say that healthcare systems ranging from doctor's offices to clinics and hospitals are inundated with data - so much data that it can be hard to see how it points the way to more efficient patient treatment. Short wait time tops the list in patient satisfaction assessments, said Dr. Gholston. That efficiency is vital in today's healthcare world, where government payments and in some cases insurance payments are being calibrated on the basis of patient satisfaction, while the general trend is toward lower payments overall.
"The question is, are we adding value for the patient?" said Dr. Gholston. "Anything that is not adding value for the patient is eliminated." In the current atmosphere of reduced funding, it is also important for providers to enhance efficiency in order to provide the same level of care with less money, he said.
"If I was a patient in a unit," said Dr. Hays, "what are the obstacles to me moving through that unit?"
Interpreting data through Lean Six Sigma provides what Dr. Gholston calls "a dashboard" analysis of data that facilitates better systems decision making by administrators and staff. Like gauges on an auto dashboard, the Lean Six Sigma process identifies which data are important to making decisions affecting the system. In class, "students learn to pick out the relevant data from operations to show the adjustments that need to be made," he said.
"One thing is to be able to provide that data after analysis so that the administrative people - who have the money - can look at it and apply it," Dr. Hays said.
In industry, one of the primary areas where Lean Six Sigma is applied is lead time, which in healthcare equates to patient waiting time. "The shorter that lead time, the more responsive you are in your process," said Dr. Gholston.
Departmentally, Dr. Hays said healthcare applications include unearthing greater efficiencies in emergency room waiting times, operating room use, use of nursing rounds, medication rounds, processing patient paperwork in administrative offices, and workflow of the staff.
"One of the differences between healthcare and the manufacturing sector is that they have so much data," Dr. Hays said. "They collect everything, and it's overwhelming. How can they use their collected data more efficiently and analyze it quicker?"
Lean Six Sigma is key to being able to interpret the data in near-real time and act on it, then assess and refine the interventions to produce optimal results.
"If you wait until the data come in and it's all assembled, you are already behind the 8-ball," Dr. Hays said. "We try to teach students to go ahead and work on it now. Healthcare has become so interdisciplinary that we need to work together with disciplines of all types."
"As a systems engineer," said Dr. Gholston, "history has shown that the best systems are developed by a team of diverse individuals."
Nurses are central to the evaluation and refinement aspects of Lean Six sigma, said Dr. Hays.
"We have to have a champion within that facility to follow up on that," she said, "and that's why I see nurses as so crucial to this process."
For more information contact:
Dr. Sampson Gholston
sampson.gholston@uah.edu
256-824-7310
OR
Dr. M. Peggy Hays
haysm@uah.edu
256-824-2441
OR
Jim Steele
256-824-2772
jim.steele@uah.edu