UAH nursing student's trip to Africa leads to nursing career
HUNTSVILLE, Ala. (May 1, 2013) — Senior nursing student Rachel Jackson's career in the healthcare field began when she was six years old with a visit to The University of Alabama in Huntsville's (UAH) Let's Pretend Hospital. But it was a few years later; she experienced her true calling to the nursing profession.
Rachel, who graduates with a bachelor's degree in nursing from the UAH College of Nursing on Saturday, May 4, became a pharmacy technician while in high school. In 2008, after graduating from Grissom High School, Rachel traveled to Kigali, Rwanda, as part of a medical mission team providing free clinics to anyone in the area.
"My main duties on the medical team were to manage the pharmacy, as well as provide HIV testing. The experience changed my life," Rachel said. "There were many times that I cried with patients because their test was positive for HIV, but there were other times that I rejoiced with the children when we gave them a pair of eye glasses and they could see for the first time. Through my experience in Africa I explored more of my passion to work in the healthcare field," she explained.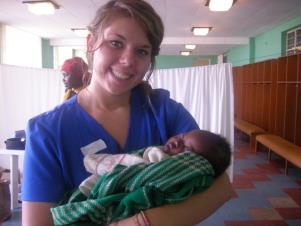 When Rachel began her mission trip she was convinced she wanted to be a pharmacist, but after having the opportunity to give hands on care to villagers, and observe other mission nurses deliver compassionate, quality patient care under such challenging circumstances, her call to be a nurse was evident.
"I realized through the trip to Africa, that there is a world out their that is in need, and I have a duty to reach out to others. I learned that many people can perform skills that nurses do, but it takes a special person to truly show the compassion and patience of a nurse," Rachel said. "This experience really opened my eyes to the fact that there are so many needs in our world that nurses can meet."
Rachel credits her educational experience at UAH for "preparing me for just about any situation I could encounter .... It has been phenomenal. I have formed such strong relationships with my instructors and fellow students that I believe will continue after graduation. My instructors have been encouraging throughout the program, and have been willing to do anything to help me succeed from late night phone calls before a test to hour-long review sessions before taking a HESI exam."
While attending UAH, Rachel has gained invaluable experience through training at area hospitals, the Health Department, nursing homes, Let's Pretend Hospital, and Disaster Simulation Drills. "I feel that through these experiences I am prepared to work anywhere I am led to work."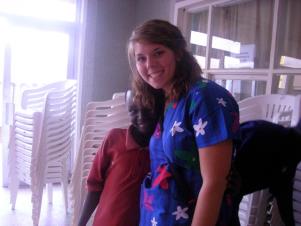 In addition to nursing training at UAH, Rachel has been volunteering at Huntsville Hospital's anesthesiology department for nearly two years, and she job shadowed with Dr. Jay Dinerman, a specialist in cardiology and internal medicine. She is also a member of the Society of Leadership and Success.
"Rachel loves research and hopes to obtain a job in that area," said Marta Browning, clinical associate professor of nursing. "She is thoughtful, compassionate, wants her efforts to make the world a better place."
Rachel will return to graduate school for a master's degree, after she gains more experience in the nursing field. "I look forward to having more opportunities after graduation to travel and do medical work in other countries. I am interested in pursuing a nursing career in cardiology and cardiac research."
For more information
Joyce Anderson-Maples 256.824.2101
maplesj@uah.edu