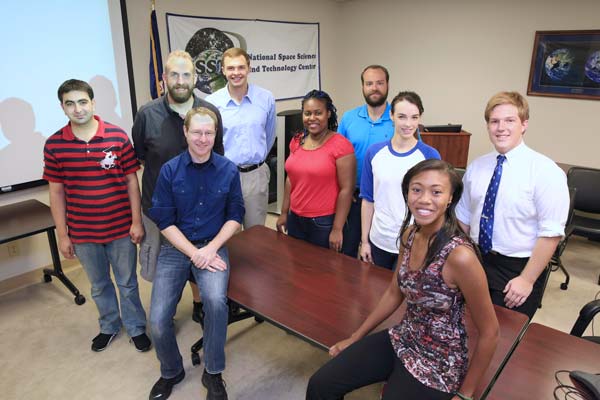 HUNTSVILLE, Ala. (July 9, 2014) - Eight students from The University of Alabama in Huntsville (UAH) are learning rudimentary German language and culture this week in preparation for a Joint Space Weather Summer Camp (JSWSC) with students from that country.
The UAH student campers are Samer Al-Nussirat, Chris Parker, William Dent, Sasha Mujica, Douglas Simpson, Phyllis Whittlesey, Amber Williams and Robert Hicks. Accompanying the students are Veronica Belser and Dr. Peter Hunana, both of the UAH Center for Space Plasma and Aeronomic Research (CSPAR).
"I'm really excited about going to the space weather observatory in Neustrelitz," says Dent, a senior physics major from Huntsville. "I'm hoping to get firsthand knowledge of how space and weather observations are made."
The UAH students will take off from Huntsville July 15 and land in Germany at Berlin on July 16. The German portion of the camp begins July 17, and students will depart Germany July 26 and return to Huntsville July 27. Dr. Alexander Dosch, a post-doctoral research assistant at CSPAR, is advising the students.
"The students will have the opportunity to talk to and interact directly with renowned scientists and researchers in the space weather field," Dr. Dosch says. "They will also work on projects and experience firsthand what it means to be a researcher and how research is done in Germany, as well as in the U.S." That intrigues student Williams.
"One of the most important things to me is that a lot of my job is sitting at a desk and looking at lots of data after it has already been collected," says Williams, a senior mechanical engineering major from Irondale and a CSPAR employee. "Now I will get the opportunity to see how all that data is actually collected."
The JSWSC is an opportunity to learn about space physics and to begin to understand the influence of the sun on the space and upper atmosphere of the Earth and its related impact on the technological systems and needs of modern society.
"I'm an aerospace engineering student and I don't know a whole lot about space weather, and I want to learn," says senior Simpson of Jackson, Miss. "I want to be an astronaut and am starting to apply for that, so I want to see how space weather affects space missions and especially how it affects the International Space Station."
German universities and organizations participating are the German Aerospace Center (DLR) in Neustrelitz, the University of Rostock and the Leibniz-Institute of Atmospheric Physics e.V in Kühlungsborn, which is one of Germany's main centers for middle atmosphere research and is actively cooperating with several international research organizations.
"I am really enthusiastic about the prospect of seeing how other nations deal with their space hardware," says Whittlesey, a graduate student in physics from Arlington, Texas.
The Huntsville portion of the camp will take UAH and German students to the U.S. Space and Rocket Center and Oak Ridge National Laboratory, and will feature expert lectures and student projects.
"Beyond the scientific side of the Summer Camp, the UAH students will also have the opportunity to experience a different culture, to meet students and scientist from Germany and all over the world," says Dr. Dosch. "With a visit to the Historical Technical Museum in Peenemünde, Germany, they will also learn about the historical ties between Germany and the U.S."
---
You may also be interested in: