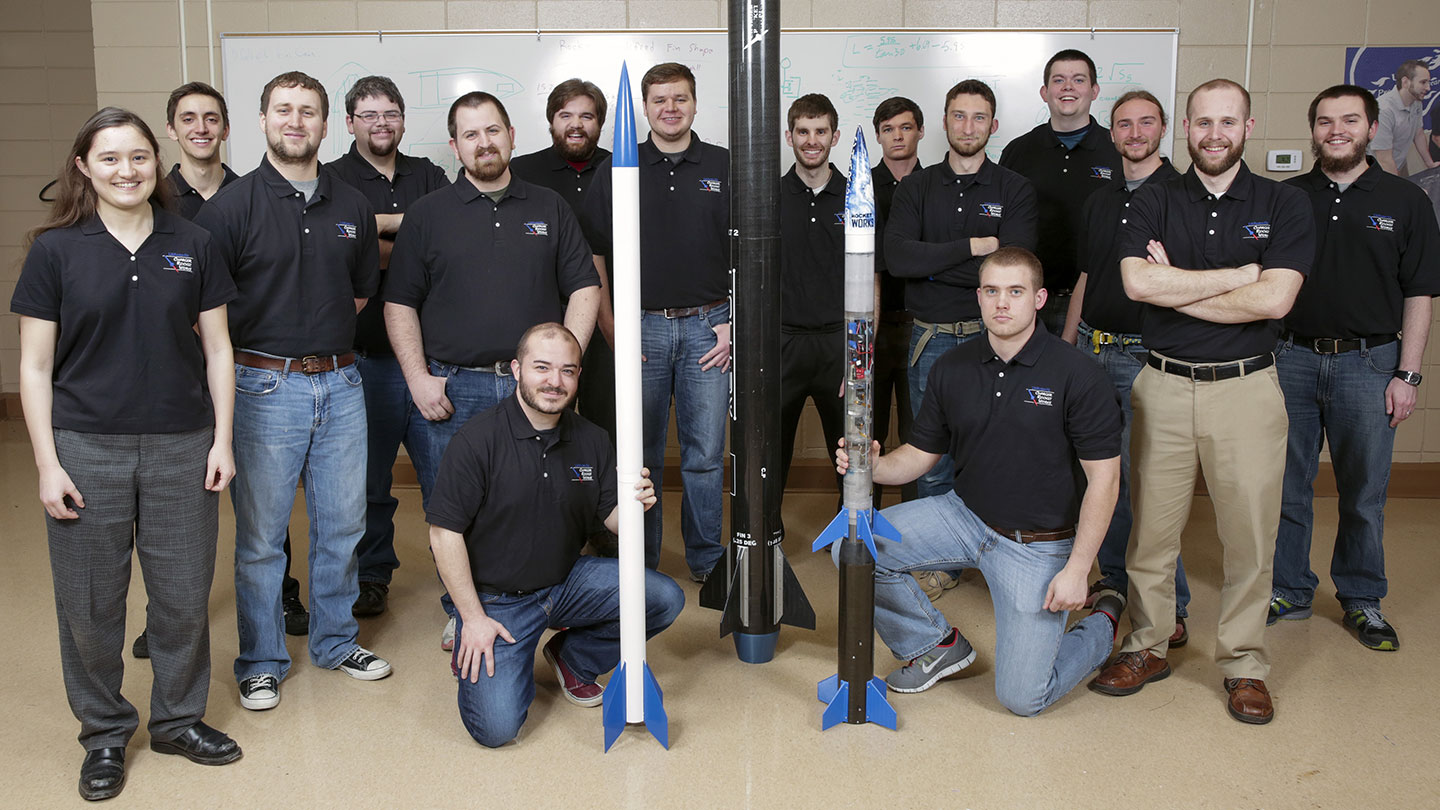 HUNTSVILLE, Ala. (July 1, 2014) – The successful June 21 launch of Prometheus, a Charger Rocket Works student-built rocket, was celebrated by The University of Alabama in Huntsville (UAH) Propulsion Research Center with a barbecue dinner Monday, June 30, at Johnson Research Center on campus.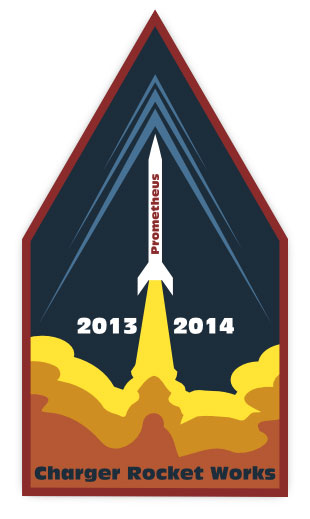 University officials on hand for the event included UAH Provost Dr. Christine Curtis and UAH College of Engineering Dean Dr. Shankar Mahalingam.
After persevering to overcome an earlier design problem, the Prometheus team shot the spacecraft 16,000 feet into an intermittently stormy sky at a sod farm near Manchester, Tenn., at Southern Thunder 2014. Co-hosted by the Music City Missile Club (MC2) and the Huntsville Area Rocketry Association (HARA), Southern Thunder is the largest rocketry event in the Southeastern United States.
The rocket carried two operational payloads. The first, a pitot tube probe, measured air pressures and velocity. The second, a data acquisition package, tracked vehicle speed and orientation with instruments including a gyroscope.
Team members continued to work on the rocket even after graduation to resolve flight issues and get to the successful launch, said PRC Director Dr. Robert Frederick Jr. Advised by Dr. Frederick, Dr. David Lineberry and Jason Winningham, the team members are:
Systems Integration Project Lead Ken Le Blanc;
Systems Integration Safety Officer Brian Roy;
Analysis Team Lead/SI Team Chad O'Brien and members Tryston Gilbert, Garrett Holmes, Sarah Sheldon and Fernando Duarte;
Hardware/Design Team Lead/SI Team Chris Spalding and members David Zaborski, Jordan Lee, Andrew Mills and Josh Thorne;
Avionics/Payload Team Lead/SI Team Wesley Cobb and members Shawn Betts, Sam Schmitz, Henrique Casagrande, Tyler Cunningham and Bronsen Edmonds.
Charger Rocket works is supported by the Alabama Space Grant Consortium, the UAH Propulsion Research Center, the UAH Office of the Vice President for Research, the Office of the Dean of Engineering, the Mechanical and Aerospace Engineering Dept. and the UAH Student Government Association.
Prometheus' all-new design was manufactured almost entirely in-house utilizing resources at the UAH Engineering Design and Prototyping Facility (EDPF), one of the largest student-centered facilities of its type in the country.
"This includes the carbon fiber body and the recovery system," said Project Lead Le Blanc. "The recovery system includes a 12-foot diameter parachute that was designed and manufactured by our team."
---
You may also be interested in: