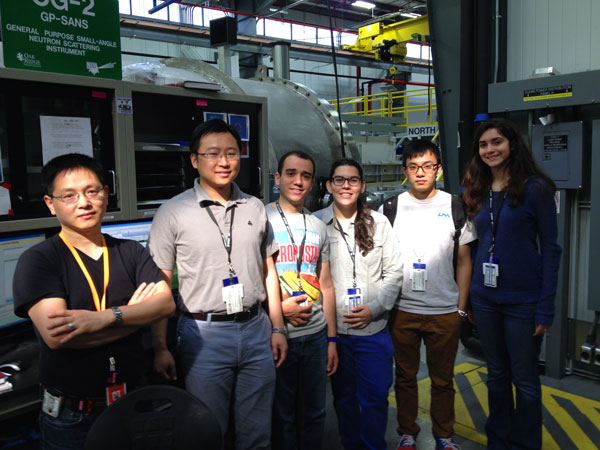 HUNTSVILLE, Ala. (June 5, 2014) - Chemical & Materials Engineering students from The University of Alabama in Huntsville (UAH) worked in shifts for 48 hours straight in late May at Oak Ridge National laboratory in Tennessee to advance basic knowledge of materials proposed for use as catalysts in lithium batteries and fuel cells.
Led by Dr. Yu Lei, a UAH assistant chemical engineering professor, the team worked in Oak Ridge's High Flux Isotope Reactor (HFIR), using the facility's General Purpose Small-Angle Neutron Scattering Instrument to bombard 10 different materials with a high flux (>107 neutrons per cm 2 per sec) neutron beam. The scattering pattern resulting from the neutron diffraction provides information on the material's structure, giving engineers insight into which structures best fit their applications.
"Besides lithium battery materials research for energy storage, we were doing basic research for alternative fuels, looking for catalyzing agents that could be used to convert biofuels from biomass," says Dr. Lei. "We were also exploring advanced catalysts that could decompose methanol to make hydrogen for fuel cell use."
The HFIR at Oak Ridge is one of the highest flux reactor-based sources of neutrons in the world, offering extremely high spacial and temporal resolution for materials research.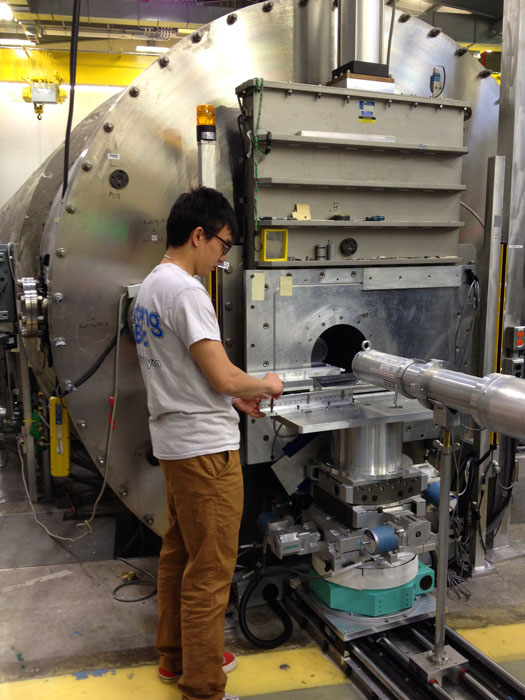 Team members are UAH doctoral student Mar Piernavieja-Hermida of Spain, UAH doctoral student Javier Sanchez-Santiago of Spain, UAH doctoral student Zheng Lu of China and Auburn University rising sophomore Sara Simpson of Tennessee, who is interning at UAH this summer via a grant from UAH's 2014 summer Research and Creative Experiences for Undergraduates (RCEU) program.
"It's one of these lifetime opportunities," says Piernavieja. "Not everyone gets the chance to be around these international scientists working at this level and using this type of equipment."
Entering the facility for the first time was in itself impressive, says Simpson. "My favorite part was touring the High-Flux Isotope Reactor and seeing the reactor and all the equipment that is connected to it." Scientists can conduct multiple experiments simultaneously at the facility.
"I really liked the people there," says Sanchez. "They were really kind, and always willing to be helpful or answer a question if you had one."
As an educator Dr. Lei got excited about exposing his students to the most cutting-edge facilities at one of the world's most advanced and respected research hubs. "Oak Ridge has some of the best characterization facilities available," Dr. Lei says. "It's one of the few places globally that you can do this type of experiment."
Setting up the experiments took about 10 minutes and the each experiment took about two to four hours, Simpson says. Time also had to be allocated to dissipate radiation generated and for collection of results. The team used state-of-the-art small angle neutron scattering techniques in its experiments on nanostructured materials for use in renewable energy conversion.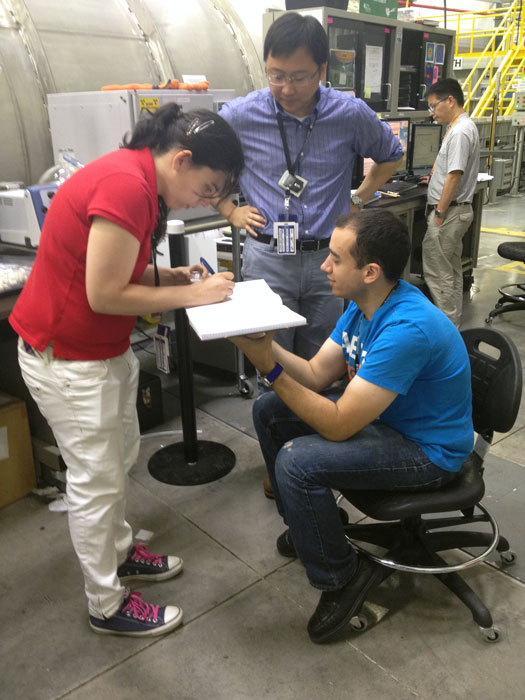 It's one of these lifetime opportunities. Not everyone gets the chance to be around these international scientists working at this level and using this type of equipment.
Mar Piernavieja-Hermida
UAH doctoral student
"We were using this small-angle technique to measure materials structures and orientation down to the nanoscale," Dr. Lei says. The nanometer-precision information gathered can be used to help scientists create efficient nano-structures for catalysts and other energy uses.
To gain the research opportunity, Dr. Lei drafted a successful research proposal to Oak Ridge, which awarded the team its 48 hours of access. The research trip was sponsored by the Dept. of Energy's (DOE) Implementation Award, which is designed to enhance the research activities of undergraduate students, graduate students, faculty members and post-doctoral associates by providing them travel support to work in one of the 10 world-class laboratories managed by the DOE Office of Science. Funding also came from a portion of Dr. Lei's UAH research startup funding. A new professor at the university, Dr. Lei formerly worked at Argonne National Laboratory.
For more information on the team's research, visit Dr. Lei's lab page.
---
You may also be interested in: