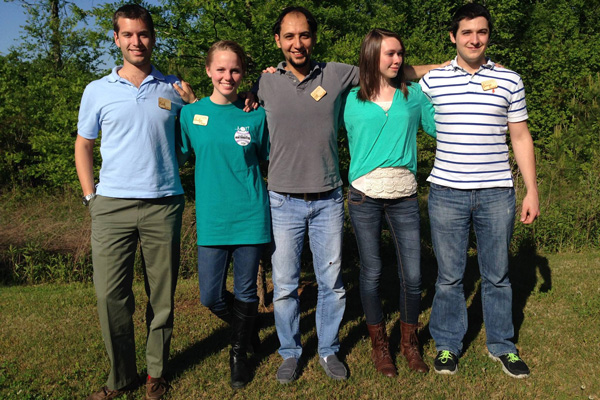 HUNTSVILLE, Ala. (May 12, 2014) - Providing prospective homebuyers and apartment renters with unmanned aerial vehicles (UAVs) to scout locations is the basis of a business developed by a team composed primarily of students from The University of Alabama in Huntsville (UAH) that won third place in the inaugural Rocket City Launch competition at MindGear Labs.
Focused on digital fabrication, the inaugural competition provided an opportunity for beginning entrepreneurs of various disciplines to meet, dream and launch a new venture, all in the span of one weekend, as mentors provided wisdom, volunteers supplied tools and food, and experienced entrepreneurs provided feedback.
Competition teams had 48 hours to prototype a physical product, create a simple business plan and put together a pitch that was vetted by a panel of judges at the dinner/awards ceremony that concluded the weekend.
The team consisted of Director of Marketing Analyn Bengs, UAH College of Business Administration; Director of Engineering Ali Darwish, UAH College of Engineering; Director of Operations Nick Gorgone, UAH College of Science; Rapid Prototyping Technician and 3D Artist Jessie Kay, Virginia College; and Software Engineer George Mitchell, UAH College of Engineering.
Director of Engineering Darwish, a doctoral student in computer engineering from Aleppo, Syria, prototyped the UAV and constructed and programmed the hardware responsible for controlling the plane.
"The Rocket City Launch gave us the opportunity to implement what we are learning at UAH in real life scenarios. Also, it gave us an idea about the challenges young entrepreneurs should be prepared for," Darwish says. "Our great team, that transformed an idea on a piece of paper into a prototype, got to learn its weaknesses, which is a great thing since we are still going to school and have the opportunity to fix that."
Director of Marketing Bengs, a rising UAH sophomore, stated, "I learned that we need to set goals and accomplish them as a team. It's hard to create a marketing plan for such an innovative service in 48 hours!"
The business the students developed is called Pick Your Pilot. It is a service-based model that allows prospective homebuyers and apartment renters to remotely control a UAV with a streaming video feed via any internet-connected device.
The Rocket City Launch gave us the opportunity to implement what we are learning at UAH in real life scenarios. Also, it gave us an idea about the challenges young entrepreneurs should be prepared for.
Ali Darwish
Director of Engineering
"The customer may check the quality of the property or go on a sight-seeing tour of Huntsville, whatever he or she wishes that complies with Federal Aviation Administration (FAA) regulations and laws," says Gorgone a first year physics graduate student. "The company also diversified its income model by offering advertising on the website and offering services to individual and corporate production companies for aerial photos and videos."
Bengs described the structure of the competition.
"Initially, there was a one-minute lightning pitch and then everyone divided up into teams according to the idea they thought was best. After that, we built a prototype, business plan and presentation for a five-minute pitch for the judges, who were presumably investors."
Software Engineer Mitchell, a UAH senior from Waterbury, Conn., who is studying computer engineering, was in charge of developing a web portal that allows users to create waypoints for the UAVs to follow that can be fed into the UAV autopilot software. In turn, the software sends a live camera feed from a camera mounted on a UAV to the user. "We built a UAV for part of our prototype and a web portal for users to control our UAV and for users to see what the UAV sees," he says. "A working demo of the website can be found at http://gmitchell09.alwaysdata.net/RCLaunchSiteDemo/index.html."
The wings of the drone were 3D modeled by Rapid Prototyping Technician and 3D Artist Kay, a junior from Cullman who attends Virginia College in Huntsville.
"The experience I got from Rocket City Launch was trying to get a project done in a limited amount of time," Kay says. "It was challenging, but in a good way. I also enjoyed getting to know people and making new friends."
Third prize brought the team $250 and a one month membership at the MindGear Labs fabrication facility. The money was divided among members to recoup their personal expenses.
"I learned that there is a group of individuals that have the same energy and passion for leading and innovation that I do. I also learned the strength that comes along with teamwork," says Mitchell. The team plans to utilize the resources MidGear offers to further pursue the product it designed and to develop others.
"The real challenge started when the Launch ended," says Darwish. "We have to improve our product and find investors for our startup."
---
You may also be interested in: