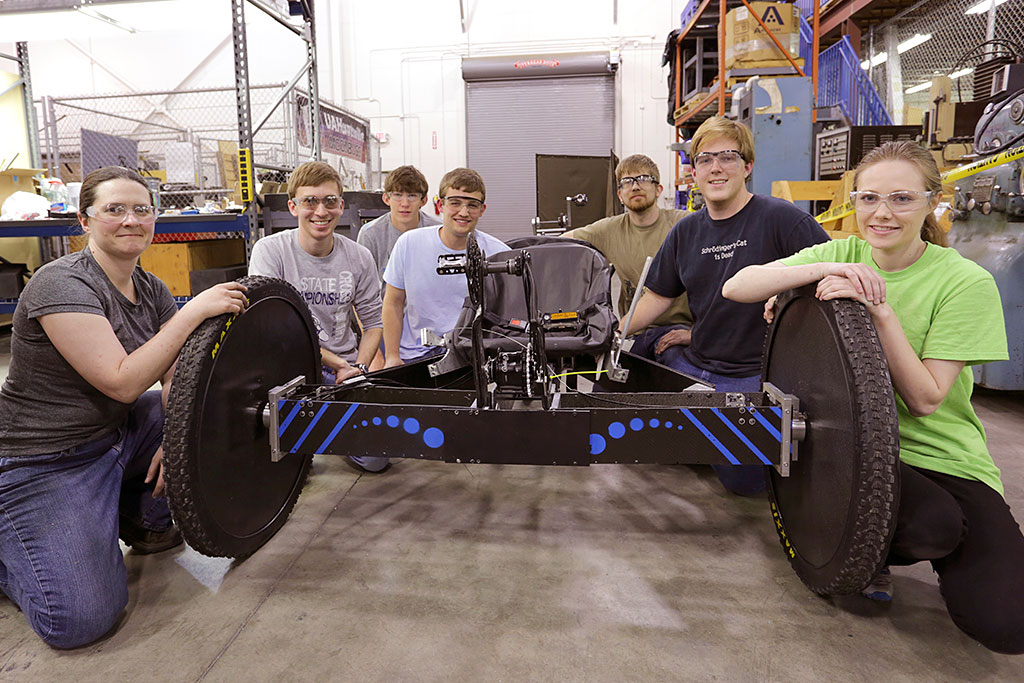 HUNTSVILLE, Ala. (April 9, 2014) – Hoping to engineer a victory, The University of Alabama in Huntsville's Rover Team is in final preparations for Thursday's start to the inaugural NASA Human Exploration Rover Challenge.
Set for Thursday through Saturday, April 10-12, at the U.S. Space & Rocket Center, the Rover Challenge is a new engineering design competition that will focus creativity and innovation on NASA's current plans to explore planets, moons, asteroids and comets.
Formerly called NASA's Great Moonbuggy Race, the Challenge will focus on designing, constructing and testing technologies for mobility devices to perform in these different environments.
The UAH team is headed by Charles Boyles, a 24-year-old graduate mechanical engineering major from New Mexico, and Elizabeth Woodard, a 22-year-old native of Huntsville who is a senior astrophysics major graduating in May 2014 and is also one of two athletes who will pedal-power UAH's rover.
Besides serving as a team leader, Boyles other responsibilities include lead engineer and lead machinist. Leader Woodard's other responsibilities include composites design and manufacturing, final assembly, graphics and serving as team athletic and driving trainer.
Aiding in the propulsion effort will be Brian Mixon, a 21-year old junior mechanical engineering major from Montgomery whose responsibilities include composites manufacturing, assisting with design and final assembly. He designed the fenders, the hinge locking mechanism and the improvements on the composite wheel layup process. Mixon trains for race day every day at 6:30 a.m. with his co-rider, Woodard.
Dubbed Carbon Charger, UAH's trike-like entry brings composite technologies to the forefront, Woodard says.
"This year's rover marks the completion of a major goal for the rover team," she says. "Since 2009 the team has been pushing to design and build an all-composite material buggy. Each year we have increased the amount of composite material used in our design. This is the first all-composite rover ever entered in the competition."
Everything from the rover's frame to its wheels is designed and built from carbon fiber, acrylic and Kevlar. The three-wheeled rover is designed to be as light as possible, to fold into a 5-square-foot cube for transport and then assemble automatically into racing configuration.
Composite wheels were designed and built to adhere to the 2014 Rover Challenge rule banning pneumatic tires and wheels.
Team members vital to the design and construction effort are:
Benjamin Turnbull, a graduate aerospace engineering major from Mobile, who produced the axles, steel inserts and u-joint connections for the front drive train;
Meghan Predenkoski, a 20-year-old native of Maryland who is a junior industrial and systems engineering major and competing as a rider in the Challenge. She assisted the composites team in building the wheels, seat mounts, pedal mounts and accessories packages, in addition to final assembly of the frame, wheel treads, rear drive train and rear seat;
Brooke Chesterman, a 33-year-old U.S. Navy service member and Huntsville native who is a sophomore mechanical engineering major and whose responsibilities on the rover team include team safety manager and the author of the safety report. She applied her skills as a Naval Aviation mechanic to produce a majority of the manually machined parts used in CNC preparation, steering components and the approximately 90-piece support system used between the members of the composite frame;
Elliot Codd, an 18-year-old New Hampshire native and freshman aerospace engineering major who worked with the composites team to build the seats, wheels, seat mounts, rear pedal mounts, and the front half of the composite frame;
Logan Bryant, 20, a freshman mechanical engineering major from southern Tennessee who is competing in the Challenge as a rider. He assisted with composites manufacturing, seat assembly, accessories package and final assembly;
Dalton Hicks, 19, a freshman aerospace engineering major from Tampa, Florida, who assisted with machining of drive train components and will compete as a backup rider;
Alec Minnicks, 18, a junior aerospace engineering major from Huntsville, who assisted with composite layups and final assembly.
Advised for the second year by Mechanical and Aerospace Engineering lecturer Dr. Nicholas Lynn, the team is anchored by three seasoned members. Leader Boyles has competed in the NASA Great Moonbuggy Race for six years, leader Woodard has competed four years and team member Turnbull has competed three years.
"The biggest challenge this year is training the large number of new team members," Boyles says. "We only have three members who have ever participated in the race before. Of those three, we had two machinists and one composites manufacturer. A majority of this year was spent training new members to ensure a continuity of the UAH rover team for the 2015 race."
Each team member brought skills and specialties to the effort. They also learned a wide variety of skills through the Challenge, including manufacturing methods and techniques in composite materials, manual machining and final vehicle assembly and maintenance. Team leads also taught new members to use Computer Aided Design (CAD) and Finite Element Analysis (FEA) software packages to design and test the rover. In addition, the team leads taught managerial skills to the junior and sophomore members. They learned project management, scheduling, planning and budgeting.
Currently, the team is operating using funds from a donation made three years ago by Northrop Grumman Corp. Next year the team will seek a new source of funding.
---
You may also be interested in: