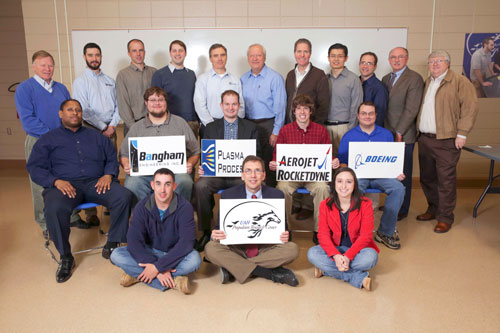 HUNTSVILLE, Ala. (March 5, 2014) - Four students from the Propulsion Research Center at The University of Alabama in Huntsville (UAH) have been placed with local industries as part of the 2013 Industry/University Cooperative Graduate Student Research Program funded by UAH's Office of the Vice President for Research.
Christopher Paaymans , advised by Dr. James Blackmon, is doing cooperative research at Bangham Engineering Inc.; Patrick Giddens, advised by Dr. Jason Cassibry, is at The Boeing Co.; Joseph R. Buckley, advised by Dr. George Nelson, is at Plasma Processes; and Michael Mascaro, advised by Dr. Gabe Xu, is at Aerojet/Rocketdyne.
"The students are gaining practical, hands-on experiences that combine a research flavor with their academic adviser combined with practical application at the participating companies," said PRC Director Robert Frederick. "This is all about developing relationships between UAH and local businesses and understanding how we can fulfill specialized research needs that will benefit our partner companies."
At a recent gathering of the four teams working with the UAH Propulsion Research Center, Scott Claflin, director of the Aerojet Rocketdyne group, said that in the short time the student from UAH has been working on-site he has far exceeded their expectations.
This seed program is sponsored by competitive grants from the UAH Office of the Vice President for Research.
---
You may also be interested in: