HUNTSVILLE, Ala. (October 10, 2013) Five University of Alabama in Huntsville students were awarded scholarships at the Von Braun Memorial Dinner on Wednesday, Oct. 9.
Awarded $2,000 Von Braun Memorial Scholarships by the National Space Club-Huntsville (NSC-H) were physics major Adrien Saremi (4.00 GPA), physics major Ryo Suzuki (3.98 GPA) and Earth systems science major Elinor Crook (3.97 GPA).
"It is very significant for a student to see his work being rewarded in such manner. Earning the Dr. Wernher von Braun Memorial Scholarship is certainly an honor, but is as well an encouragement to pursue a career in the field of science, and more specifically in physics," said Saremi. "Winning this award is also a way for me to memorialize the accomplishments made by Dr. von Braun for Huntsville, which have put our city at the top of rocket science and astronautics research. I strongly wish that funding organizations will, over the years, keep their financial support to students who show true dedication to their studies."
Suzuki said he would like to thank his family and friends for their support and for always believing in him. "This award has helped me significantly to concentrate and achieve my educational pursuits," he said. "I gained the confidence that I can become successful in my aerospace engineering career and that hard work really does pay off."
NSC-H University Engineering & Science scholarships went to mechanical engineering major Elisa Raffo ($2,000; 3.80 GPA) and Earth systems science major Chris Lisauckis ($1,000: 3.70 GPA).
"Winning this scholarship means a great deal to me. While it is a huge, huge help financially, it is also a huge help emotionally," Raffo said. "To know that someone believes in me, supports my dreams, and invests in my future means the world to me and encourages me to keep pushing onward to do my best in school and in every aspect of my life."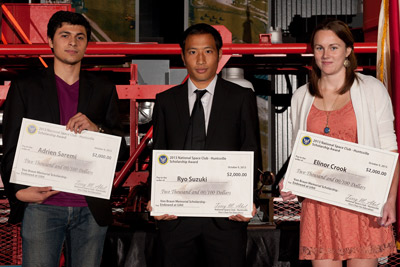 Being a recipient of this scholarship is a true honor, Lisauckis said. "It will help provide me with the drive to complete my studies at UAHuntsville."
Also at the event, the Von Braun Trophy was presented to Dr. Michael D. Griffin, chairman and CEO of Schafer Corp., former eminent scholar and director of the UAH Center for System Studies and former NASA administrator.

The Astronautics Engineer award went to Garry Lyles, NASA Space Launch System chief engineer.
Dr. Chryssa Kouveliotou, NASA Marshall Space Flight Center (MSFC) astrophysicist, received the Distinguished Science award. The Communications award went to Chris Hadfield, former Canadian astronaut and International Space Station commander. David Brock, NASA MSFC Small Business Specialist, received the Community Service award. Rhonda Lisauckis of Covenant Christian Academy won the Educator of the Year award.
The NSC-H website is http://spaceclub-hsv.org.
---
You may also be interested in: