UAH, software company develop Air Force cyber-warfare simulations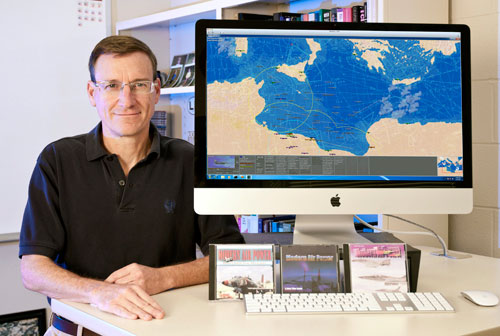 Very few days at the office are considered to be boring in the eyes of John Rushing, principal research scientist at The University of Alabama in Huntsville.

He admits some days are a little different than others, though.

When there is work to be done on a military contract that UAHuntsville and private businessman John Tiller are partnering on, well "it's just a whole lot of fun."

On those days, Rushing and others involved in the project – including university students – get to "play" war games. They help simulate combat responses to help U.S. Air Force officers experience what's possible on a variety of missions, both the good and the bad.

To date, about 21,000 Air Force officers have used the software for training exercises at Maxwell Air Force base in Montgomery, according to Tiller. His company, John Tiller Software, has teamed with Rushing and other researchers at UAHuntsville's Information Technology Systems Center. Tiller's company serves as a sub-contractor for the university.

"It's been a very successful collaboration," Tiller said. "We've done dozens of contracts together and it's been a great relationship."

Formal specifications to qualify for military contracts require Tiller's company to work with a research university like UAHuntsville. Tiller says the relationship, which has run without interruption since 2003, continues to grow.

"The university has outstanding computer scientists and researchers who are on the leading edge of computer science and math topics," Tiller said. "They are affective in solving problems, and their students are smart and engaged."

Tiller has been involved in commercial war game development since 1995, but the military contract took his creation to a new level, and Rushing and others have helped reach that plateau.

The software has become an important training tool for the Squadron Officers College at Maxwell. The program primarily involves 2nd lieutenants and captains and complements classroom lectures and other studies, according to Rushing.

In simple terms, the software compiles combat scenarios based on hundreds of potential factors. The data forces those involved in simulated missions to react and make decisions as the battles are unfolding on a simulator.

"A group of 14 students typically plan a mission, which can take a whole day, and then they act it out," Rushing said. "It can involve several different types of missions. For example, it could involve an air superiority role where the goal is to shoot down enemy planes. Or it could be a combat search-and-rescue mission where you've got to find downed pilots and rescue them.

"It's more of a thinking game. The students being trained control all the assets – aircraft, ships, missiles and everything else. They have to plan the mission but also manage the battle as it is happening. They have to make real-time decisions and there are consequences for their decisions."

Rushing said real-life battles rarely go exactly as planned, which makes these war games important to the officers' development.

"You might have to intercept enemy planes before they shoot you down," he said. "Maybe you've got to decide whether to take out a ground-to-air missile launcher and risk being detected by radar or you let it go in order to complete other objectives of the mission. They have to assess the value of targets as they are presented and consider the risks and likelihood of hitting the target."

The exercise is far from being a stroll through the park.

"I play it and it's a lot of fun, but it's also really hard," Rushing said.

He said the exercise usually lasts a couple of hours. An automatic scoring mechanism is part of the software and it provides quick feedback for the students.

Rushing added that, unlike previous training methods, the training officers get a better understanding about why things happened as they unfolded during the exercise.

UAHuntsville's key role is providing the artificial intelligence component. Rushing said that involves simulating enemy reactions to the mission, which can provide students with some tense moments.

Obviously, UAHuntsville researchers do not know how missions are planned in advance, so they program enemy responses based on documentation from previous battles involving the specified enemies. The documentation logs tendencies base on prior actions taken.

"The enemy has to behave like the enemy would typically react," Rushing said. "It would not be a benefit to those involved in this program if they were getting a false read just so we could make things more difficult for them. Our goal is to provide a challenge for the students and to make everything react in a realistic way."

Rushing said Air Force officials seem pleased with the results.

"Their objective is to make sure their officers have a real understanding of what they are trying to accomplish, and I think this project reaches that goal," he said. "They can take what they learn here and move forward with that understanding. Hopefully, it helps in the development of the officers."

Tiller said feedback he has received from Air Force officials includes students having an enhanced appreciation for their role. They also find the assignments to be fun and exciting.

"I think it is making an impact on them now, and hopefully it will have a long-term impact as well," Tiller said.

For Rushing, working on the war games software is one of many projects he works with on a routine basis. He said a boring day is a rarity when he's working on the military contract.

"It's fun because this is one of my interests; I like to read a lot of history," he said. "At an amateur level, I feel I am knowledgeable of history. So, this is a natural fit for me. I look forward to what the future will bring."

Tiller and Rushing said their partnership is already looking toward what's next and how the potential use of future weapons can be tested in the virtual world.

"There is a lot of weapon technology that does not exist today but are in the works," Rushing said. "We're interested in what effect they might have on the future of air combat."

That technology includes microwaves and lasers. If perfected, could destroy enemy communications, missile launch technology, radar systems and other critical assets. Tiller said drones are already in use, but could be developed further and become a bigger asset.

Tiller said he and UAHuntsville personnel are already thinking in terms of how the new weaponry might influence combat situations. He said their research has already "produced some interesting results." He declined to elaborate on those results, noting the need to strike a balance between what information should be available only to the military.

"Right now, those things are not practical, but they could be a game changer if we could get it to work," Rushing said. "You could potentially defeat the enemy without having to shoot them down.

"We're already thinking about technology that is 10 or 15 years down the road and considering scenarios of how they might benefit our military. Now, that's a lot of fun."
---
You may also be interested in: