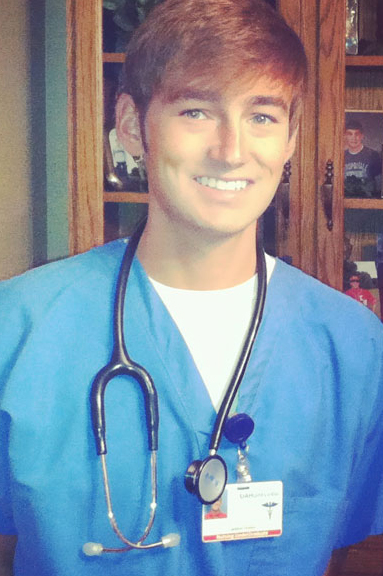 HUNTSVILLE, Ala. (June 27, 2014) - It's a good thing that brand-new nurse Landon Dutton learned where the code button was on his first morning at Parkway Medical Center in Decatur, Ala., because two hours later, he had to push it when a patient presenting with chest pain flat-lined in his presence.
"I was the only one in the room and all of the sudden the patient's eyes rolled back and the monitor showed his heart stopped beating," says Dutton, who graduated from The University of Alabama in Huntsville (UAH) with a BSN this past spring. "I was shocked, scared, overwhelmed, and in complete disbelief that this situation would occur on my very first day! But I pushed the code button and immediately started chest compressions."
The patient ended up surviving, and Dutton's swift response earned him admiration from his new coworkers. "The nurses were impressed, proud, almost shocked that I was able to act quickly and do what was needed," he says. But while he felt "like a hero," he adds that much of the credit goes to the strong foundation instilled in him by the UAH nursing program.
"Even though I'd never done CPR other than in the SimLab, thanks to the SimLab I knew what I was doing," says Dutton, referring to Charger Hospital's high-fidelity simulation laboratory where nursing students can practice actual procedures on computerized mannequins costing upwards of $100,000. "UAH prepared me, and I was able to act without hesitation. It was truly a moment in my life that I will never forget!"
It helps, too, that Dutton was a standout student in the nursing program. The Moulton, Ala., native graduated magna cum laude and was awarded the Nursing Dean's Award for his academic and clinical success. He was also a Nursing Ambassador and a member of the Alabama State Nurses Association, the National Student Nurses' Association, and Sigma Theta Tau, the international honor society for nursing.
That doesn't mean nursing school was a cakewalk, however. Even though Dutton had already earned an associate degree in nursing by the time he arrived at UAH, he says he was "completely overwhelmed" by the program's intensity. "The teachers were great, very encouraging and supportive, but they threw everything at you at once. It was crazy!"
The nurses were impressed, proud, almost shocked that I was able to act quickly and do what was needed.
But as tough as it was, he continues, "I never did reconsider." That's because Dutton had long since set his sights on helping others. "I chose to go into nursing because I genuinely want to make a difference in the lives of others on a daily basis," he says. And he's not alone - Dutton's twin brother Austin also completed UAH's nursing program, graduating with him this past spring.
That makes the pair something of an anomaly, and not just because they are twins. Nursing has historically been a female-dominated field, with men making up less than 10% of licensed practical and vocational nurses. And although that number is increasing - UAH's spring graduating class, for example, was 12.7% male - they are still a minority in the profession.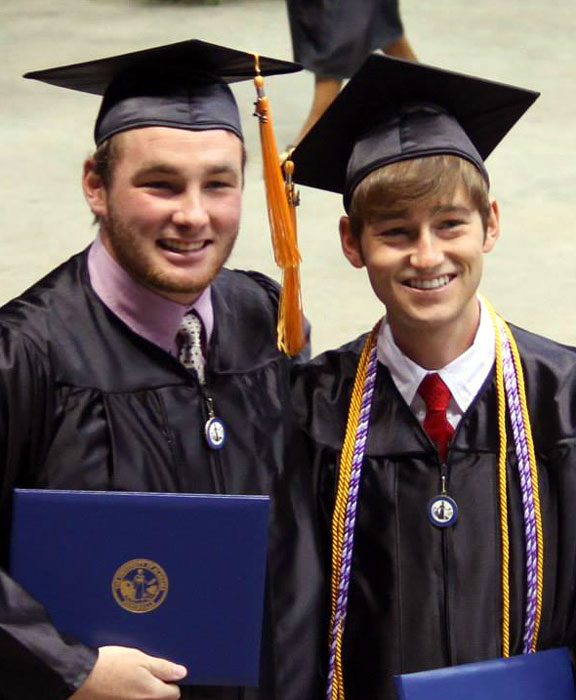 Still, says Dutton, "I never once had a patient comment or request a new nurse due to my gender." Quite the opposite, in fact. "A lot of male patients commented that they were glad to have a male nurse and I've heard patients say we need more male nurses," he says. The only time it was really ever issue was during clinical rotations, when Dutton and his brother would often be mistaken for doctors rather than nurses.
"Patients just have this perception that if you're a man in a hospital and you're in scrubs that you're a doctor," he says. "None of the women in my class got that, but almost every man did." But among the nurses themselves, there were no such divisions. "All the men I graduated with, we were all really close friends but also really close friends with the women too," he says. "I guess we looked at it as one big family and not a gender issue."
Dutton will once again be in the minority this fall, when he returns to UAH to pursue his family nurse practitioner degree. Only this time he will be juggling a full course load with the 12-hour shifts required of his nursing job at Parkway Medical Center. "It's going to be a lot, but the good Lord will take care of it," he says.
And anyway, he continues, it can hardly be called a job when you love what you do. "You have to get there early and you have to stay late, but when we get off our shift we're all just smiling like we haven't worked 12 hours." That is, of course, unless a patient crashes. But even then, Dutton can now say he knows exactly where the code button is.
---
You may also be interested in: