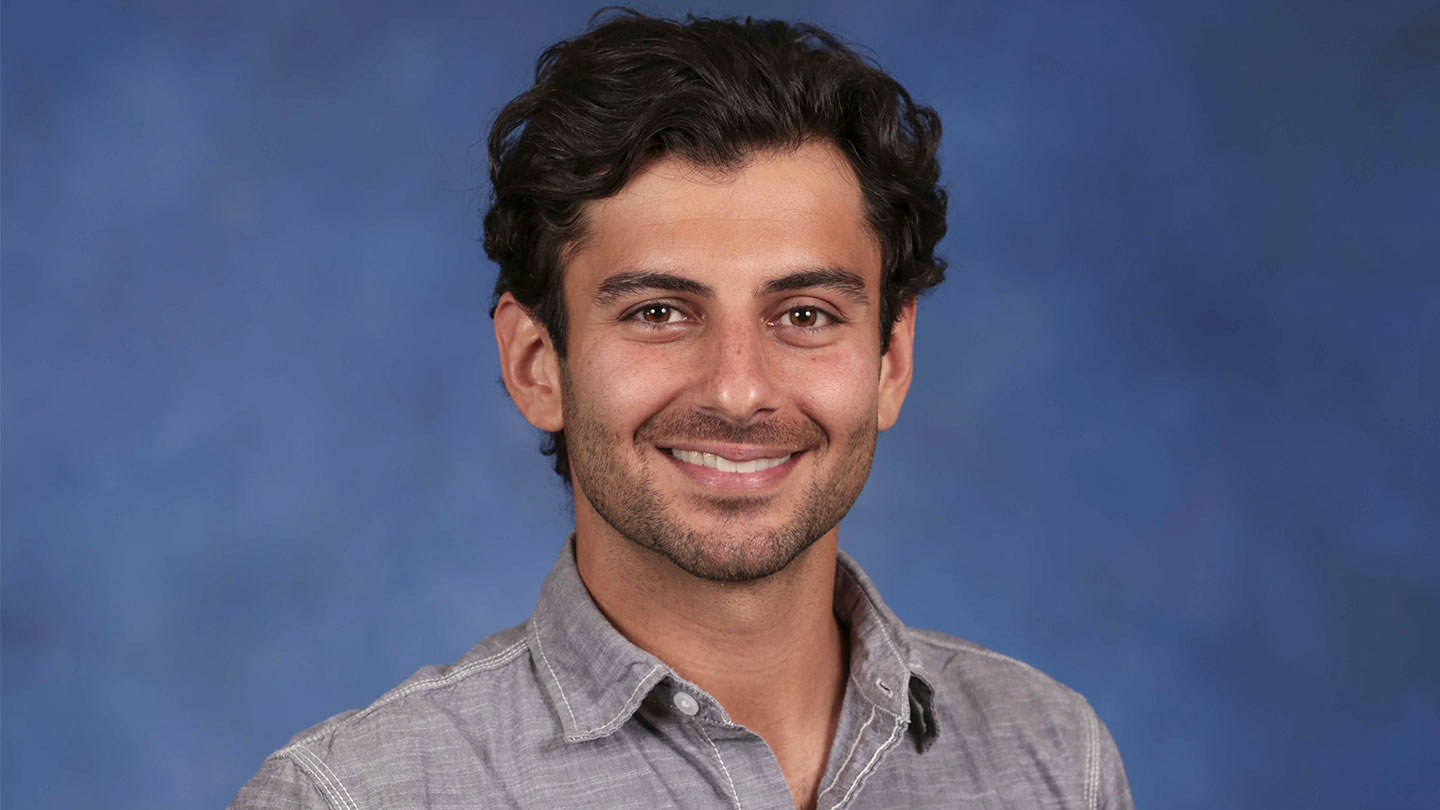 HUNTSVILLE, Ala. (June 13, 2014) – It takes some longer than others to figure out where they're supposed to be. That was certainly the case for Abtin Iranmanesh, who after more than decade away has finally returned to his hometown to earn a bachelor's degree in biology from The University of Alabama in Huntsville (UAH).
Iranmanesh's journey began after graduating from Bob Jones High School in 2000, when he headed north to attend Vanderbilt University. "Like many young people, I was excited to become a collegiate athlete, move away from home, and be fully independent," he says. Once there, he earned both a bachelor's degree in economics and a master's degree in organizational leadership.
Shortly thereafter, he accepted a competitive position at a boutique investment bank in California. Yet in spite the material reward he received in return for working 50- to 100-hour weeks, he realized it wasn't a field that suited him. "I saw the lifestyle of my bosses and I didn't want that lifestyle," he says. "I wanted to do something that would have a direct impact in the community and improve the well-being of others."
He decided to transition from banking into sustainable real estate development, which he hoped would be a more meaningful pursuit. And several months later he quit his job as an analyst and flew to Europe for a vacation before beginning his new career. But days after returning home to San Diego from Europe, he says, "I got the phone call."
His younger brother was in the intensive care unit after suffering a sudden cardiac arrest and subsequent substantial anoxic brain injury. All career plans were put aside as Iranmanesh immediately flew to Alabama, where he was needed most. "I spent the next year with him in hospitals and inpatient rehab," he says. "His brain injury was the single most pivotal event in my life."
Finally, however, his brother was able to recover enough to return to his parents' home, allowing Iranmanesh to return to California, where he planned to pick up once again with sustainable real estate development. But as the U.S. economy began to sink deeper and deeper into recession, Iranmanesh faced seemingly insurmountable challenges.
"Opportunities were scarce," he says. "Although I had promising leads, I was unable to secure a position." After months of opportunity seeking, he was left with two options: become a property manager or look elsewhere. Needless to say, it was a difficult time. "That's when it clicked," he says. "I missed my brother and I realized that, for my own wellbeing, I needed to have an active presence in his life."
I wanted to do something that would have a direct impact in the community and improve the well-being of others.
The only issue was his lack of employment – he would have to reevaluate his career goals once again. In the meantime, however, he could reconnect with this brother and support his ongoing recovery. He also had an opportunity to work with his mother, a dentist, whose previous office manager resigned without giving notice.
"I said, just tell me what to do and I'll pick it up as we go along," says Iranmanesh. But after a few weeks, he realized it was more than just a temporary stopgap measure; he was hooked. "Seeing the relationships she had with her patients and the profession of dentistry, I became inspired to pursue dentistry, something I had not yet considered."
But deciding to be a dentist and becoming one are two different things, and with a degree in economics, Iranmanesh knew he didn't have the science background he'd need to gain acceptance to dental school. So he decided to return to college to get a bachelor's in biology, but this time he'd stay close to home to do it.
"I am very fortunate to have a place like UAH in my hometown, to provide the highest quality education and give me the tools to become an attractive dental school candidate," he says. And in return, he says, "I'm 100% interested in my classes. I'm here because I want to be here."
And starting next year, he'll have the chance to share that enthusiasm, and his "genuine love of science," as a Science Ambassador. An honorary position in the College of Science, it will enable Iranmanesh to promote science at events both on and off the UAH campus, something he's become more passionate about in recent years.
"As I've gotten older, I think education is probably the most important factor that contributes to the progress of society," he says. "I'd like to be someone who is able to make a difference in that way and offer guidance for young people coming into school now." And if dental school doesn't work out, he continues, "I would like to pursue a graduate degree in biology and go into education."
That's unlikely to happen, however, given Iranmanesh's newfound determination. Not to mention, he says with a laugh, "my mom thinks I would make a fantastic dentist!" But no matter what he ends up doing, there's one thing that is certain. He'll be sticking close to home this time.
---
You may also be interested in: