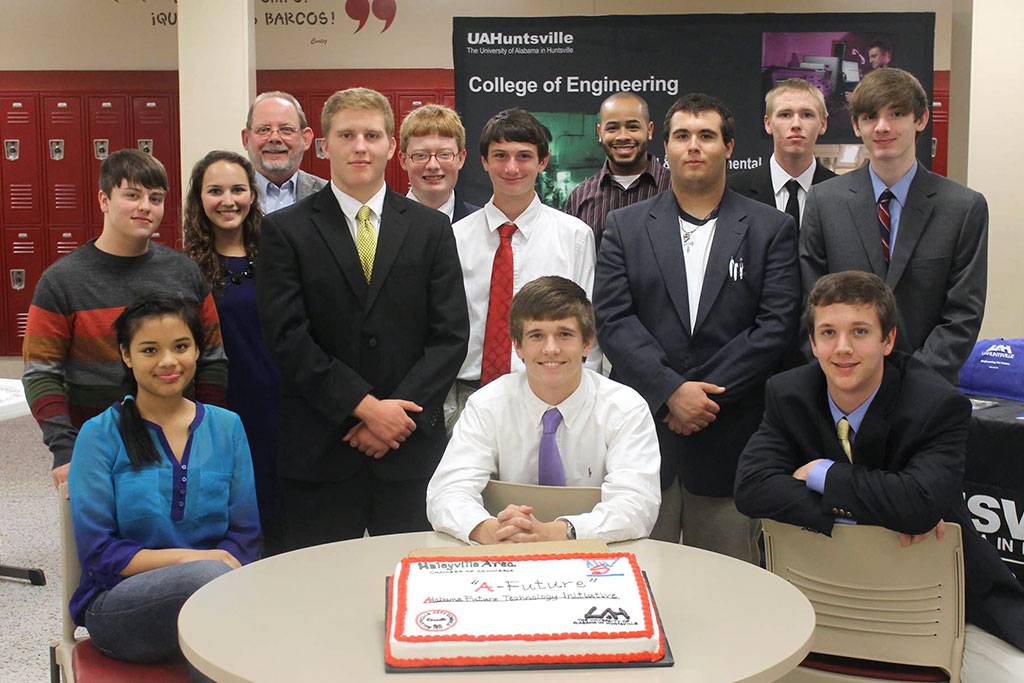 HUNTSVILLE, Ala. (June 2, 2014) – After Adam Martin graduated with his mechanical engineering degree from The University of Alabama in Huntsville (UAH) last summer, he realized he wanted others to have the same opportunity he did to pursue his passion. So he did something about it. He founded the Alabama Future Technology Initiative, or AFuture, an outreach effort to increase interest in the science, technology, engineering, and math fields among public school high school students across the state.
Each spring and fall, AFuture is offered from 12 to 5 p.m. for five consecutive Saturdays. For the first four, participants take part in hands-on experiments and receive college-level instruction on "every topic" relating to the STEM fields, he says. The fifth is set aside for a project open house, in which students to present a prepared research topic in the hopes of winning a scholarship prize.
It's an approach Martin says he would have appreciated as a high school student himself. "I had no idea about mechanical engineering when I picked it and I still didn't know until two or three years later," he says. "It turned out to be perfect, but I thought about what I would have liked to have known and that's how I crafted the framework."
As with any new program, funding poses the biggest challenge. But one of Martin's biggest supporters has been his own alma mater: UAH. "I've been working with Dr. Jennifer English at the Center for Undergraduate Engineering Education, the Dean's office at the College of Engineering, and Dr. Ray Vaughn," he says. "They've been very supportive."
From a high school student's mindset, an older person telling you that you can do something is a lot different than someone four years older than you telling you.
The university has also been a fruitful source of student volunteers, including instructors like junior mechanical engineering major Brandon McNutt. That's important, says Martin, because "from a high school student's mindset, an older person telling you that you can do something is a lot different than someone four years older than you telling you."
Those volunteers will be even more valuable in the coming year, as Martin plans to grow the program to serve all of Northern Alabama. "My intention this fall is to do the seven western counties, and in the spring, do the seven eastern counties," he says, adding that he "would like to have AFuture be statewide in 10 to15 years and then hopefully hand it off to a successor to run."
As for going national? That might happen one day, but not with Martin at the helm. "I wouldn't mind but that's too much for me!" he laughs. As it is, AFuture can eat up "from 5 hours a week to 40 hours a week," with time spent on everything from teaching new instructors and interfacing with school administrators to buying materials, scheduling classes, and ordering food.
But for all that Martin missing out on – and that includes sleep, he points out good-naturedly – he's not complaining. "It's absolutely an investment," he says. "I think it will definitely change a lot of decisions career-wise. It will have an impact on the economy in about six or seven years, and once it does, it should be a steady stream."
---
You may also be interested in: