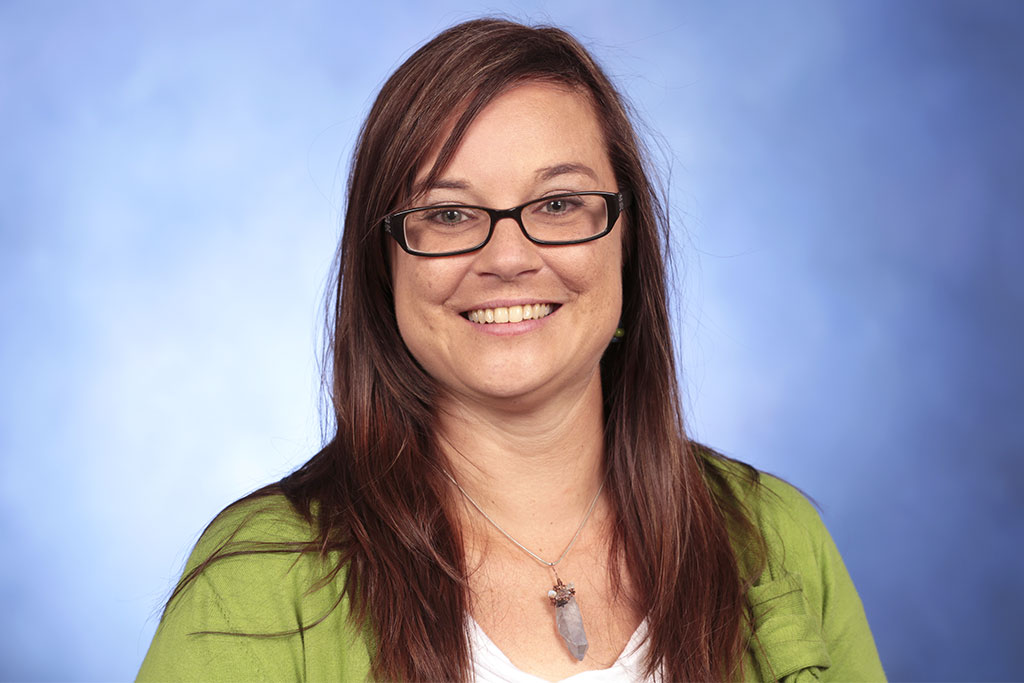 HUNTSVILLE, Ala. (May 28, 2014) – When Monique Whitaker decided to delve into the psychological ownership of cancer for her senior research project at The University of Alabama in Huntsville (UAH), her interest was more than just intellectual. The former nurse and Ohio native is, as it turns out, a breast cancer survivor. But what began as an assignment, she says, "was very healing for me personally."
Whitaker was first introduced to the world of online cancer support forums by assistant professor of psychology Dr. Aurora Torres, who suggested she research the language used in posts to determine ownership. So with the help of fellow student researcher Adam Schneider, she set out to collect, analyze, and compare hundreds of posts from two cancer discussion boards, one for breast cancer and one for prostate cancer.
"I copied the whole post or a series of posts, took out any personal identification, and assigned them a number," she says, adding that any non-cancer posts were immediately eliminated. "Then I took note of any information about their or type or grade or stage of cancer, and I started counting pronouns."
Those pronouns, she theorized, could be analyzed to determine if they were possessive, indicating ownership of one's cancer, or demonstrative, indicating an effort to distance oneself from one's cancer. The result? "Both breast and prostate cancer survivors used more possessive pronouns than demonstrative pronouns," she says.
But when the researchers dug a little deeper by analyzing cancer-specific text, differences began to emerge. "Prostate cancer survivors used more possessive pronouns than breast cancer survivors," says Whitaker. And that wasn't all. "Men seemed to talk about the treatment whereas women seemed to express their feelings and emotions."
Now the question Whitaker wants to answer is what effect, if any, does ownership have on outcome. After all, she says, "there are two ways to look at ownership: you can own it and conquer it or you can own it and let it conquer you." So she, Schneider, and another researcher – Taylor Stapler – plan to return to the project to find out and publish the results by summer's end.
The answer, naturally, is close to Whitaker's heart. In her own case, she says she "owned and conquered" her cancer. "I took control of it instead of feeling out of control." And while there were times she felt negative emotions – "of course!" – for the most part she says she "tried to keep a positive outlook."
It wasn't easy. Whitaker faced an overwhelming number of obstacles as an uninsured patient. "Everyone kept giving me the run-around," she says. "I fought for nine months to get a mammogram." She then had to wait another month after a biopsy indicated invasive cancer until a surgery center would agree to accept her as a patient.
There are two ways to look at ownership: you can own it and conquer it or you can own it and let it conquer you.
Ultimately Whitaker ended up undergoing a double mastectomy, an option she feels could have been avoided if she'd received more timely care. "If I wouldn't have had to fight for so long, I could have potentially saved my breasts," she says. But now, five years out, she refuses to dwell. "I had to find the advantages."
To do that, she joined the online forum Flat & Fabulous, a group for breast cancer survivors who were unable or chose not to have reconstructive surgery after a mastectomy. It's been a huge source of support for Whitaker, who says she has "a small presence" on the site. But she never would have found it had Dr. Torres not suggested the research project in the first place.
"I have so much gratitude for her directing me to the online communities – she did that for me, because she could see where I was in my healing process," she says. And maybe one day Whitaker will be able to pay the favor forward in some capacity. She just has to figure out how. "I feel like I'm supposed to talk to women, I'm supposed to be a voice in this, but I'm sure how to do that yet," she says.
Thanks to her research, however, there is one thing she is sure about – the importance of the words she and her fellow cancer survivors use to describe their diagnosis and treatment. "Language is like the mirror to our soul. It's representative of how we feel on the inside whether consciously or subconsciously," she says.
With that, she continues, "my goal in all of this is for people to be aware that there's different ways to look at their situation, and whether they realize it not, words have the power to affect their consciousness and impact their coping."
That's equally true for Whitaker herself, who cautions how easy it is to let cancer become one's identity. Instead, this strong single mother and survivor has since carved out a new identity for herself, one that has nothing to do with cancer: college graduate.
---
You may also be interested in: