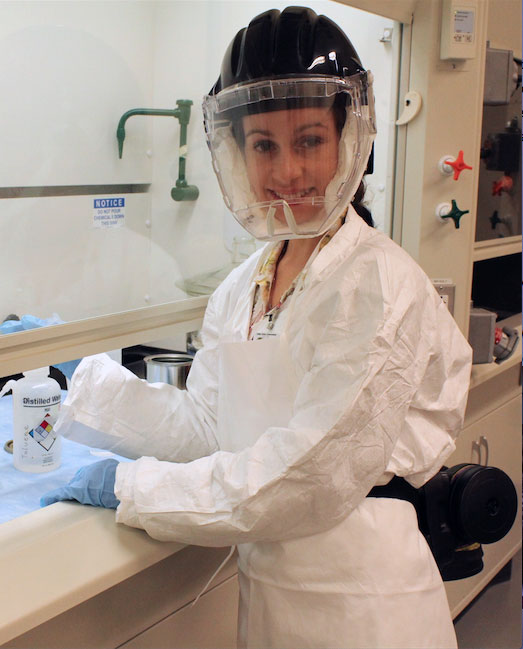 HUNTSVILLE, Ala. (May 20, 2014) – Maria Torres doesn't want to waste one minute of her college experience at The University of Alabama in Huntsville (UAH). So she's dedicated each summer of her academic career to gaining the kind of real-world, hands-on experience in biochemistry that she can't necessarily get in a classroom setting.
Her first summer, the one following her freshman year, she attended the six-week Duke Summer Medical and Dental Education Program. "It's very competitive," says Torres, a Puerto Rican native and rising senior. "We took organic chemistry, cell biology, medical writing, and medical ethics, and we mock-interviewed patients."
She and her fellow students also got to participate in clinical rotations at the hospital, during which they witnesses several surgeries, births, and chest-tube intubations. "The surgeries – it's like an expertise. It's amazing," she says, but it wasn't her favorite part. "Seeing the physician-patient interaction, that was the best part."
Her second summer found her in a very different, but still very relevant setting – the NASA Marshall Space Flight Center Materials and Processes Laboratory. For ten weeks, while still taking classes at UAH, she conducted phase I testing on the hexavalent chromium-free primers that will eventually be used on NASA's Space Launch System.
"There I learned to think analytically and critically," she says of working in a lab environment. "You can't just read the procedures on paper – you have to think about what you're doing – so when things go wrong, you have to figure it out, re-do it, and re-do it again. It was one of the best work experiences I've had."
And now that Torres has just completed her junior year, she's got another summer position lined up. "I have an internship with Dr. Nancy Emenaker in the Nutritional Science Research Group of the National Cancer Institute," she says. "I'll be working with different mice strains to determine the impact of resveratrol and curcumin on the growth, development, and transformation of spontaneous colorectal tumors."
Of course it goes without saying that any student this ambitious during her downtime is a force of nature during the school year. Torres recently completed her research on the regulation of gene expression of the tryptophanase operon with Dr. Luis Cruz-Vera and submitted her honors thesis – a year early.
She also founded the Hispanic Student Organization (HSO) this past August to serve the university's 220 self-identified Hispanic undergraduates, including her brother Pablo. "We needed to unify the diverse Hispanic population here," she says of her motivation. "And now we have a good group of strong Hispanic leaders who are going to help us take the HSO to the next level."
But as impressive as all this is, Torres is the first to credit others with helping her achieve her goals. "I don't know how I would have survived my first three years without my parents," she says. "And I think God sent me a couple of angels before I came to UAH who told me to stay close to home."
With graduation less than a year away, however, Torres will soon be making her way out into the wider world – though in what capacity she has yet to decide. "I'm not sure where I'm going," she says. But she does know one thing. "God definitely has great plans for me in this world!" And there's no doubt that this go-getter is determined to make the most of them.
---
You may also be interested in: