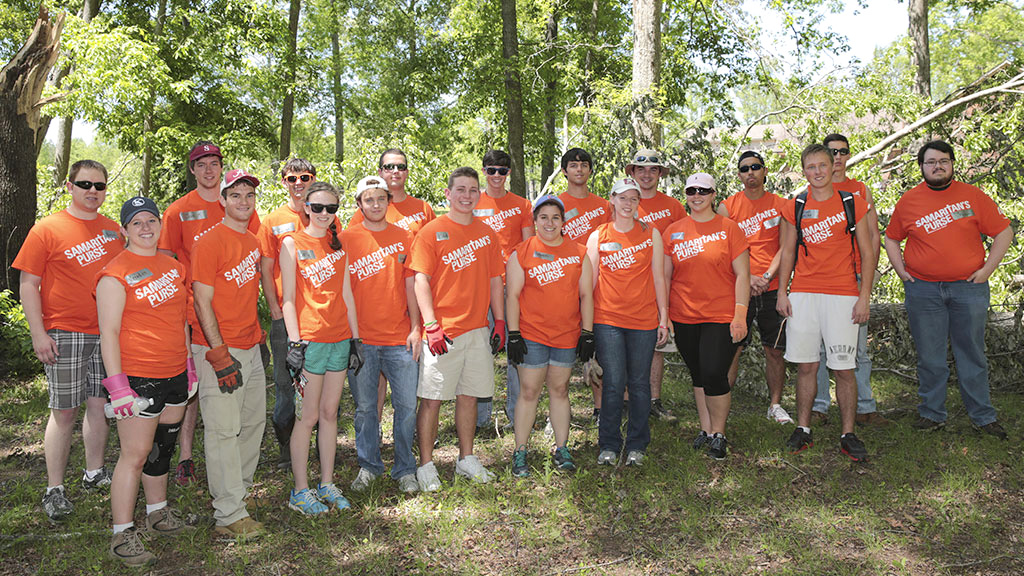 HUNTSVILLE, Ala. (May 14, 2014) – It's a scary event when a tornado comes to town. Schools and businesses close, sirens go off, and we're encouraged to seek shelter until the danger has passed. But afterward most of us go back to our lives, leaving others to clean up the communities that have been hit.
Not Meredith LaBarge. The junior industrial systems engineering major at The University of Alabama in Huntsville (UAH) remembered how helpless she felt after watching the 2011 tornadoes on the news and determined this time would be different
"It hit me that I could do something about – it's right next door," she says. "So I went to my leadership advisor, Kacey Schaum, and asked what I could do about it. And she said get a group of people together and volunteer."
Like many young adults, LaBarge turned to social media to seek out volunteer opportunities and spread the word. "I saw the United Way in Limestone had tweeted a number to call, so I contacted them," she says. "And I created an event through the Volunteer Chargers Facebook page to reach out to students."
She ended up with 17 other student volunteers, and last week, the group headed to Clements Baptist Church in Athens, Ala., to receive their assignment. All were ready to work hard, but as they got closer, the reality of the devastation they would be dealing with began to set in.
"There were houses with corners ripped out – you could see a chunk of the house taken off. And you could see areas where the tornado ran right through leaving downed trees," says LaBarge. "Parts of our ride, the car got quiet seeing these things."
Once there, however, being overwhelmed wasn't an option. "There was a lot to be done," she says, beginning with orientation from Samaritan's Purse, the relief organization overseeing the effort. "They told us it's not about the house, it's about the person. They are huge on making a personal connection with the homeowner."
After that, they were deployed to a home five miles from the church where they spent the next four hours cleaning up the downed trees and debris that littered the yard. "Everything was not how it was supposed to be," says LaBarge. "It would have been a yearlong project with the homeowner working full time to take those trees away."
Instead, together, they were able to make significant progress, sawing up the trees and removing many of the branches. "We filled up the entire length of the property with debris at the curb," she says. "And we were able to clean up the garden and yard gnomes that were washed into the dirt!"
Eventually the light began to fade, and plans were made for a new team to finish the job the following day. But LaBarge says it was obvious their group had made a huge difference in the few hours they'd been there. "It lightened the load on the homeowner. You could tell he was happy to have us out there."
Likewise, says LaBarge, she was glad to be there. "I'm really happy about what we were able to accomplish and I would like to do something like it again." In fact, she continues, "this has kind of rekindled the fire. I've decided I really want to get into volunteer work a lot more."
To that end, she is in the process of joining the Volunteer Chargers, UAH's student service organization. And should her future recruiting efforts be as successful as her past ones, that can only mean one thing – more Volunteer Chargers, proving once again that one person really can make a difference.
---
You may also be interested in: