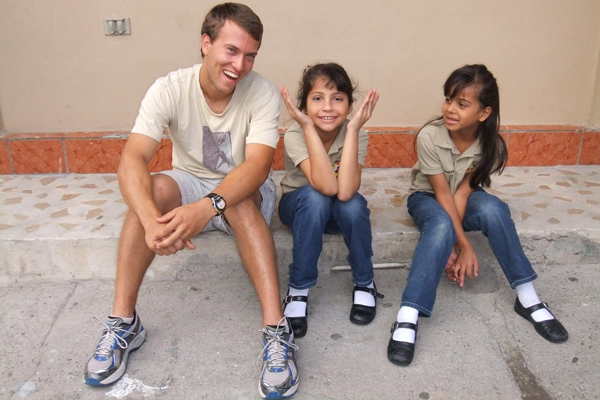 HUNTSVILLE, Ala. (May 5, 2014) - For the Powell family attending UAH has become a tradition. Four of Adam Powell's five siblings have attended The University of Alabama in Huntsville (UAH). Powell graduated on May 4, with a bachelor's of science degree in chemistry, and he was also honored as the UAH Honors College Student of the Year.
Born in Huntsville, Powell attended Covenant Christian Academy. He balances academic endeavors and extracurricular activities with skill and ease. He played soccer for eight years, achieving the rank of captain. Powell has competed on math teams and in numerous academic competitions, often receiving the highest grade or ranking. Additionally, he received a Silver Service Medal for helping to clear debris in Louisiana after Hurricane Katrina, and repairing homes of senior citizens.
Powell became interested in the fields of chemistry and medicine at an early age. "I observed the medical field by shadowing my dad (Dr. Michael Powell) through his pediatric practice and hospital rounds. My interest in medicine continued to grow as I went through emergency management training classes during the summer between high school and college," Powell explained.
He credits two teachers with sparking his interest in the STEM (science, technology, engineering and math) fields. "My interest in science grew from my love of thinking logically and my enjoyment of math. Two high school teachers, Mrs. Lisauckis and Mr. Buchanan, inspired my curiosity in the sciences."
While his interest is keen in the sciences, Powell is appreciative of the academic experience gained from the UAH Honors College Program. "The classes were beneficial to me because the small size allowed professors to focus on discussions rather than lecture presentations…I have typically found discussions to be more thought provoking than large lectures.
"The Honors Program also emphasized communication through clear writing and effective presentations," he said. "Dr. Harry Delugach (director of the UAH Honors College) expressed his desire for honors students to be able to communicate effectively during our freshman year and beyond," Powell said. "The program followed through by offering and requiring technical writing courses and by providing opportunities to present research findings. I probably would not have pursued getting involved with research before my senior year if the Honors College had not emphasized the importance of the experience."
In the fall, Powell will attend The University of South Alabama's College of Medicine. As he begins a new chapter in his academic career, one of the things he is looking forward to is improving doctor-patient communication. "I have observed the opportunities that physicians have to comfort patients through practiced bedside manner and I hope to take advantage of those opportunities throughout my career."
At UAH, Powell has worked closely with Dr. Robert McFeeters (assistant professor of chemistry) studying a class of enzymes called Peptidyl-tRNA Hydrolases (PTHs). "Peptidyl-tRNA results from cellular malfunction and is a waste product. "PTH recycles peptidyl-tRNA into usable tRNA by acting like a pair of scissors that cuts the peptide off peptidyl-tRNA. The recycling function of PTHs is critically important because bacteria that do not have functional PTH die within hours.
"PTH is also a potential antibiotic target because bacteria only have one PTH while humans have multiple PTHs," Powell explained. "That is, humans have more than one type of scissor to cut peptidyl-tRNA. My research asks the question, 'Can we turn off bacteria's PTH with an inhibitor (antibiotic) without turning off humans' PTHs?' If the answer is yes, then PTH has a strong potential to become an antibiotic target."
Powell's fond memories of UAH include his relationships with friends and faculty. "All of my classes, and particularly my upper level chemistry courses, have been engaging and challenging. The best thing about the UAH faculty is that there is no question too big…teachers are excited to help students find the answer. All of my professors have cared about me as a person and a student. My peers have also been excellent, too, inspiring curiosity and hard work."
The UAH Powell graduates are Daniel and David Powell, Gloria Gasser, and Rebekah Gibson.