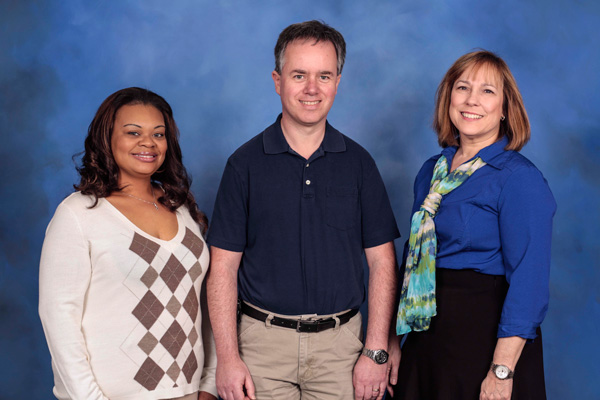 HUNTSVILLE, Ala. (April 21, 2014) - The University of Alabama in Huntsville (UAH) recently announced the 2014 UAH Foundation award recipients, they are: Mary Pat Bohrman, David G. Brown and Kenya S. Cole. UAH Foundation staff award recipients receive a check for $1,000 and a certificate of appreciation. Additionally, they will be recognized at the special awards ceremony and at the annual UAH Faculty/Staff Picnic on Wednesday, May 7.
The university will also recognize 171 employees for completion of key service milestones of five, 10, 15, 20, 25, 30, and 35 years of regular, full-time service to UAH. You may access the HR website http://www.uah.edu/ hr/awards to view and congratulate colleagues in your area that are being recognized for this important milestone.
2014 UAH Foundation Awardees:
Mary Pat Bohrman, assistant director of Student Financial Services began her employment with the university in September 2003, in the Department of Professional and Continuing Studies (Continuing Education). Currently, she directs UAH's Scholarship Program. Bohrman's job consists of making sure all university scholarships are properly awarded, and that scholarship accounts are reconciled. She coordinates with the Office of Advancement and the Accounting and Financial Reporting Office. Bohrman also reviews all scholarship recipients for renewal each year. During her 10 years at the university she has observed many changes including the implementation of Banner and the remodeling of Wilson Hall. "I enjoy being in a position to help deserving students, and I very much enjoy the staff I work with." In her spare time she enjoys Soduko, ringing handbells, playing the piano, playing word games and reading.
David G. Brown, director of Instructional Technology in the College of Nursing originally came to UAH as a summer exchange student with the Physics Department in 1986. He returned as a student and graduate research assistant in 1988. His first full time job with the university began in 1993 as SPIDASL manager with CSPAR. In his current position, Brown takes care of classroom AV equipment, office computers and software, and the college web site. "I do my best to help out with any technology related projects, which can be anything from fixing a radio controlled rat for Let's Pretend Hospital to troubleshooting a patient simulator. Brown has observed steady growth on the UAH campus over the years. "In 1986 the only student residence was Southeast Campus Housing and Wilson Hall was the Science Building. Another major change has been in classroom technology. When I came here lectures were on chalkboards or overhead transparency. The campus is now close to having a standardized computer and projector in every classroom and all nursing classes now make use of Angel," he noted. Brown enjoys helping others with technology. A father to three school-age children says there is not much spare time in the household, but when the rare occasion emerges he enjoys basketball, robotics, gardening and he is a collector of British science fiction.
Kenya S. Cole, contract specialist I Office of Sponsored Programs (OSP) began as a student worker in the department in 2000 and was hired full-time after graduation in 2004. Her many duties include preparing budget and other pre-award documents, reviewing proposals to ensure they are in compliance with UAH and agency guidelines before submission, administering awards, being a liaison between the university and the agency on all contractual matters and supervising and training staff internal and external to OSP. In the short time she has been employed with the university, she has noticed tremendous change. When she started as a student worker the department was called Research Administration, and the name of the department soon changed to OSP. A more noticeable change, she said, is the campus itself…new buildings, greenways, and dorms. When it comes to her job, Kenya said, "besides my coworkers, I like that I am constantly learning something new in the research world." In her leisure time she enjoys traveling, spending time with family and friends, and planning on how she will accomplish her next goal in life.
For more information, contact:
Joyce Anderson-Maples
256.824.2101
maplesj@uah.edu
---
You may also be interested in: