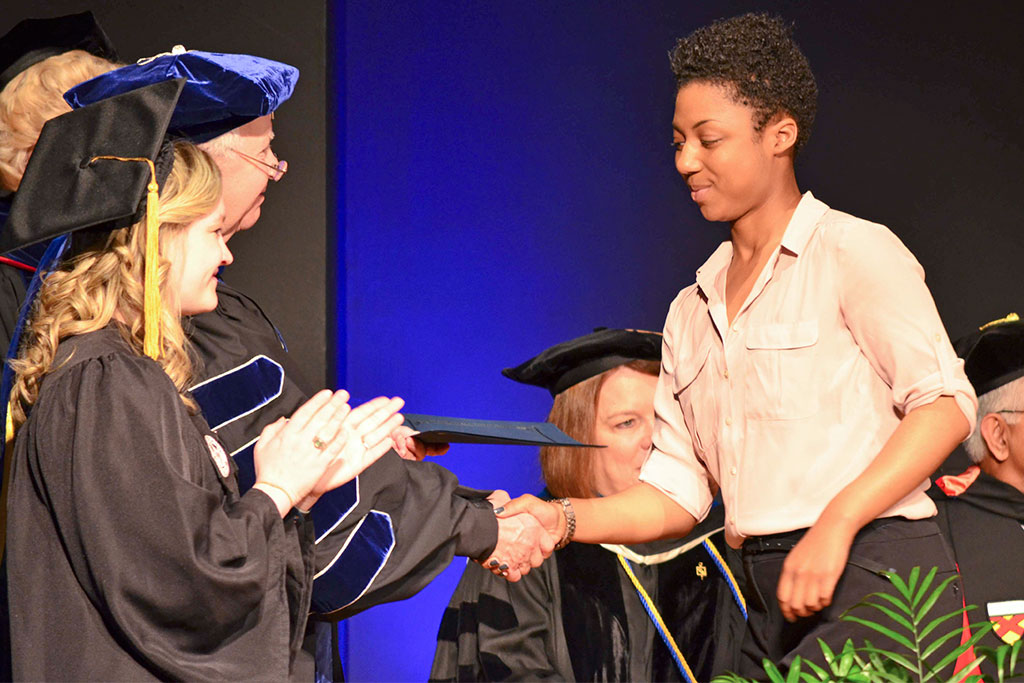 HUNTSVILLE, Ala. (April 21, 2014) — For Rachel King learning was never limited to what was taught in the classroom. Her parents made sure of that. "The example they set for me was to always seek knowledge."
King attributes her proclivity towards philosophy to her parents, who instilled in King at an early age a sense of intellectual independence. "My brother and I were the kids writing book reports and doing math problems during summer vacation," she said. "While at the time, I wasn't the biggest fan of this 'extra' work, it instilled in me a sense of self-discipline that I believe is very beneficial in reading, thinking and writing about complex philosophical issues."
She initially came to UAH with a "mindset" to get a degree in political science and go on to law school to become a corporate attorney. "But everything changed my freshman year when I took Introduction to Philosophy with Dr. Brian Martine (professor emeritus). It was as if in every class session I was led to reconsider how I viewed and understood the world, others and myself.
"This was probably the first class I had ever taken that actually left me with more questions than answers. It was very new for me — yet refreshing. I was forced for the first time to actually take my intellectual studies into my own hands and form opinions about concepts such as creationism, Plato's Theory of Forms, or issues including what it means to be 'just.' All of this was new mental territory that initially and continually intrigues me," she said.
King was born in Huntsville. Her dad, a sergeant in the Army was reassigned to Fort Stewart, Ga., for several years, but the family eventually made their way back to Huntsville when she was eight years old. She attended New Century Technology High School, and as part of the school's curriculum, King was allowed to take classes specific to the student's "strand" of interest.
"I chose the medical strand, largely due to a short-lived obsession my friends and I had with the medical show Grey's Anatomy, but I thoroughly enjoyed and excelled in classes including bioethics, biochemistry and sports medicine. As part of the curriculum I was able to job shadow at Huntsville Hospital on the oncology floor which helped me to realize two things: I am quite squeamish with blood, and whatever I choose as a profession it must involve helping others or benefiting another life." For her studiousness, she was awarded Highest Achieving Medical Strand Student in her senior year.
King always knew about UAH, and would often hear about major events held on campus. "My first actual visit to UAH was when I participated in the Poetry Out Loud Competition. I won my school-wide poetry contest and was selected to participate in the regionals held at UAH. I remember thinking that it was pretty cool that a school known for engineering and technology would host an event like Poetry Out Loud.
"As I think back, I believe it was this foundation of understanding what UAH could and would offer outside of the technological and engineering fields that made me comfortable making the decision to pursue a Political Science and Philosophy degree at UAH," she explained.
King said she will always cherish the feeling of  community and camaraderie she experienced while attending UAH. "I enjoyed feeling comfortable to go to my professors during office hours to continue a discussion we had in class, or just to seek their advice on something. In particular, several of us in my political science classes would routinely meet up and have an impromptu study group for an upcoming test. My top three classes that I thoroughly enjoyed at UAH would have to be Phenomenology and Genealogy with Dr. William Wilkerson, Introduction to Logic with Dr. Andrew Cling, and World History since 1500 with Dr. John Kvach.
"There are many styles of philosophy, and our department teaches all of them. While many students do better at some kinds of philosophy compared to others, Rachel seems able to do any and all forms of philosophy, from advanced symbolic logic to more 'literary' style philosophy," said Dr. William Wilkerson, Department Chair of Philosophy at UAH and King's senior advisor. "She has a terrific ability to always 'know where the problems are' with any idea or theory under consideration.
"Rachel did not come to UAH to study philosophy. Instead, she discovered philosophy in a introductory course, and fell in love with it immediately," Wilkerson said. "I believe that Rachel will go very far. She has a terrific talent, and is also a warm, engaging and highly motivated person. I can see her completing her degree and getting a job at high level philosophy department with a graduate program."
King was recently awarded the prestigious Penn State Bunton-Waller Fellowship. It is an enhanced graduate assistantship award given to incoming graduate degree students. Only 18-25 students are selected annually to apply for four openings in the program.
"When I first received the offer letter by email, I was in shock. I think I stayed in a state of shock and disbelief until I actually received a hard-copy in the mail. I am ecstatic that, just as I complete my undergraduate studies, I have the opportunity to leap forward into a well established PhD philosophy program. I accepted the offer, the first week of April following my visit to the campus during recruitment week. I will start the program in August 2015."
"Applications to PhD programs in philosophy typically run at a rate of 150-200 applications for about five to 10 slots, so just getting accepted is quite special. An offer this generous is even more rare," said Wilkerson.
For college-bound students who are dissuaded to pursue a degree in Liberal Arts, King advises: be open to learning new things.
"If freshmen students have an interest in pursuing a career in the Liberal Arts, I suggest they seek out professors who teach in these fields to gain insight into the kinds of careers that can come with having a philosophical or political science background," she said. "I think the name of the game is really to strive to figure out what you will be comfortable doing every day...what kind of work will be fulfilling to you such that it doesn't feel like work. More importantly, I would advise students looking to pursue any liberal arts discipline to not be discouraged by other's negative opinions of their chosen field but to continue along the path that feels right for them."
As she continues her academic career so many miles away, King will carry with her so many fond memories of UAH. "Being part of the SGA (Student Government Association), going to basketball games with friends, and everything about my freshman year living in Central Campus Residence Hall is memorable. I definitely have fond memories of Morton Hall, there's so much character in that building…so many great lectures given, illuminating discussions, and relationships borne within those halls."
Before she leaves for Penn State King plans to volunteer as a CAJA (Court Appointed Juvenile Advocates). CAJA volunteers are are appointed by judges as officers of the court to objectively investigate child abuse and neglect cases.
**EDITOR'S NOTE: UAH's Spring Commencement is Sunday, May 4, at 2 p.m.,  in the Von Braun Center Propst Arena (downtown Huntsville). AMC General Dennis L. Via, will deliver the commencement address.
---
You may also be interested in: