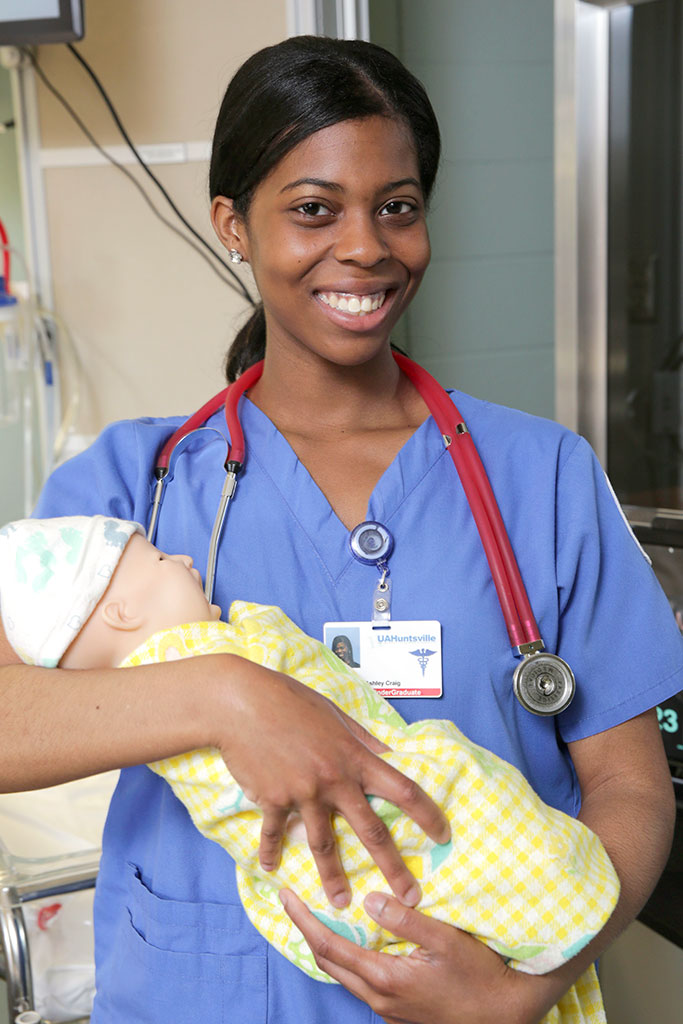 HUNTSVILLE, Ala. (April 9, 2014) — "Volunteering and community service has helped me to grow as a person. Volunteering helps you to see how fortunate you are and how the smallest act of kindness you perform for someone can have such a major impact on them," said Ashley Craig, a senior nursing student attending The University of Alabama in Huntsville (UAH) College of Nursing.
Craig graduates from UAH on Sunday, May 4, at 2 p.m., in the Propst Arena Von Braun Center. Approximately 802 students will participate in the Spring Commencement Ceremony (about 578 undergraduate degrees, 197 master's degrees, and 27 DNP/PhD degrees will be awarded).
An honors student throughout high school, Ashley graduated with an advanced academic diploma in May 2010 from Pleasant Grove High School (part of the Birmingham metropolitan area). While attending high school Ashley walked a tightrope — successfully balancing her academic studies while assuming challenging student leadership roles.
After graduation she participated in the Louis Stokes Alliance for Minority Participation (LSAMP) Summer Bridge Program at The University of Alabama at Birmingham. The LSAMP summer program facilitates the transition of minority students from high school to college.
Ashley began attending UAH in fall 2010, after hearing about the university's nursing program from a recruiter visiting the high school where her mother worked as an educator. During her initial college search Ashley received many scholarships from various universities. But at UAH her studiousness was well rewarded. Ashley received the Academic Competitiveness Grant, Charger Challenge Scholarship, UAH Tag Scholarship, Housing Scholarship, Top of the Class Award, Lee and Ila Vaught Scholarship, and most recently a scholarship from her sorority, Delta Sigma Theta Sorority, Inc.
"I chose nursing as a career because I love helping people and it is something that I am passionate about and enjoy doing. My grandmother, a retired RN, was the driving force behind my decision to become a nurse. When I was younger, she would tell me stories about her nursing experience and how much satisfaction she got from knowing that she made a difference in her patient's lives," Ashley said. "I could see the passion she had for nursing and I knew nursing was in her heart. I knew I wanted to get that same satisfaction and have that same passion as she did."
Ashley's professors in the nursing program have been instrumental in her collegiate success. "I have formed a relationship with some of my nursing professors and they always check up on me to make sure that I am working to my full potential."
While educational achievement is necessary for her career goals, Ashley remains passionate about volunteering and community service.
At UAH she serves as a minority mentor for the Undergraduate Minority Mentoring Program (UMMP). UMMP is designed to offer support and resources to first year African American and Hispanic Students attending the university.
"My specialty in the program is mentoring first year nursing majors. I have been a part of the program ever since its launch in 2011. I wanted to become a part of the program, because as a freshman, I didn't have that guidance or that go-to person who could tell me what classes to take or expose me to the many things that UAH has to offer. During my first year, I learned through trial and error and I knew that I wanted to help others avoid making the same mistakes that I did," she said.
Ashley is also active or hold memberships in several organizations including the UAH Charger Chapter of the NAACP, Orientation Leader, UAH Lancer, and Omicron Gamma Chapter of Delta Sigma Theta Sorority, Inc., a public service organization.
Ashley is eager to begin her nursing career. She currently precepts at the Athens-Limestone Hospital in the Mother-Baby Unit. "This experience has really solidified my desire to become a nurse."
---
You may also be interested in: