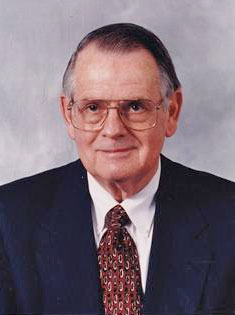 HUNTSVILE, Ala. (April 8, 2014) — Kenneth Edwin Harwell, former University of Alabama in Huntsville (UAH) senior vice president for research and associate provost, died on Friday, April 4, in Nashville. He was 77.
Dr. Harwell began his tenure at UAH in 1989. He led the university's research efforts for more than 10 years. While at UAH, Harwell contributed to the formation of the Global Hydrology and Climate Center, the Space Science and Technology Alliance, and supervised over 15 research centers and institutes.
Following his retirement from UAH, Harwell was appointed the first chief scientist of the Air Force Research Laboratory organization where he served for two years leading the establishment of future national investments of the U.S. Air Force. Harwell also served as Director of Defense Laboratory Programs in the Office of the Secretary of Defense continuing his contributions to national investments in research, engineering, and science.
He was a registered professional engineer in Alabama, a Fellow of the American Institute of Aeronautics and Astronautics (AIAA) and a Distinguished Engineering Fellow at the University of Alabama. He was also recognized with the 1981 General H.H. Arnold Award from the AIAA Tennessee section and both the 1991 Holger Toftoy Award and 1997 Professional of the Year Award from the AIAA Alabama/Mississippi Section. He is the author of numerous research publications and holds two patents. Harwell's work and leadership have also been recognized by resolutions of the State of Alabama Legislature and the State of Tennessee Senate.
Dr. Harwell is survived by his wife, Dr. Sharon Hilton Harwell; one son,  Kenneth Hilton Harwell; and two daughters, Kathryn McLeroy, and Karen Harwell.
Visitation for Dr. Harwell will be on Thursday, April 10, from 4 p.m., to 7 p.m., at the Kilgore Funeral Home in Tullahoma, TN (http://www.kilgorefuneralhometullahoma.com/). The funeral will be held on on Friday, April 11, at 11 a.m., in the funeral home chapel. Burial will follow at Rose Hill Memorial Gardens. Donations in Harwell's memory can be made to the Kenneth E. and Sharon Harwell Scholarship at the UAH Office of Development, 301 Sparkman Drive, Huntsville, AL (35899).
EDITOR'S NOTE: Dr. Sharon H. Harwell retired from UAH as an associate professor of education in 2003.