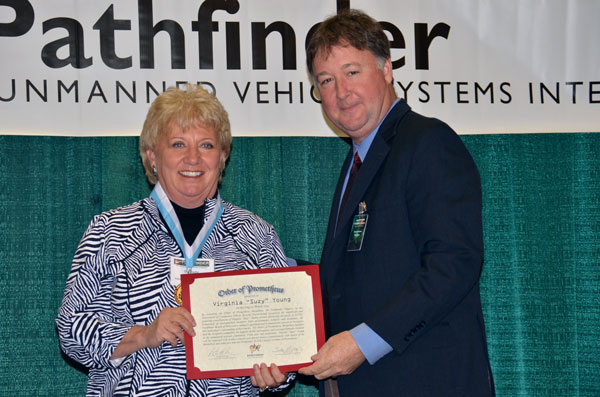 HUNTSVILLE, Ala. (March 25, 2014) - Dr. Suzy Young, director of The University of Alabama in Huntsville's Office of Proposal Development, was named to the Order of Prometheus during the recent Pathfinder Chapter Unmanned Aircraft Systems Symposium in Huntsville, Ala.
"I am very honored to be a member of this group and receive this award," Dr. Young said." Membership in the Order of Prometheus represents the highest ideals, aspirations and accomplishments resident to the aerospace community.
"My work in unmanned systems began many years ago," said Dr. Young. "I knew then and I know now that they are valuable assets to our nation in both military and civil/commercial applications. Even more important is the dedicated community that supports the development of these systems and contributes to the education of our next generation for continued excellence in engineering and design."
Following an address by U.S. Rep. Mo Brooks at the conference, Dr. Young hosted a large Unmanned Systems Technology Panel.
The conference highlighted the Army's Unmanned Aircraft Systems Roadmap to the Future, along with many other service and industry updates. Conference speakers updated attendees on Dept. of Defense unmanned systems, emerging requirements, the recently selected FAA test sites and emerging commercial applications. Additionally, over 40 exhibitors with many new technologies were on hand at this year's symposium, held March 18-20 at the Von Braun Center.
Dr. Young is an elected board member of the Association for Unmanned Vehicles/Systems International (AUVSI). In September, she was appointed by Gov. Robert Bentley to serve as a member of the Alabama Space Science Commission.
---
You may also be interested in: