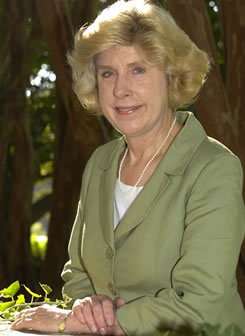 HUNTSVILLE, Ala. (January 21, 2014) - Christine Curtis has been named provost and executive vice president for academic affairs at The University of Alabama in Huntsville, President Robert Altenkirch announced today.
Dr. Curtis is currently the senior vice provost and director of strategic planning at the University of South Carolina. She has been at South Carolina since 2007 and has also served as vice provost for faculty development. Curtis was a professor in the university's chemical engineering department.
"Dr. Curtis impressed everyone as a highly qualified academician who has the knowledge and experience to continue to grow UAH's outstanding academic reputation," said President Altenkirch. "She emerged from a very strong pool of candidates during our nationwide search as a leading candidate, and we're fortunate she has chosen to join our campus."
Prior to joining South Carolina, Dr. Curtis was at Auburn University for 31 years, from 1976 to 2007. She joined AU as a research associate in the chemical engineering department, eventually becoming associate vice president for research. Dr. Curtis was named associate provost in 2000 and special assistant to the president in 2004. She also was a tenured professor in Auburn's chemical engineering department.
"I am excited about joining UAH as provost and executive vice president for academic affairs," Dr. Curtis said. "I am looking forward to working with the President, faculty, deans and administration in growing UAH's academic stature, breadth, and depth, while providing opportunities for students and faculty to excel in their educational and scholarly endeavors."
Dr. Curtis received a bachelor's degree in chemistry from Mercer University, and her master's and Ph.D. degrees in analytical chemistry from Florida State University.
She and her husband Larry will move to Huntsville, and she will begin her responsibilities on Feb. 24.
Dr. Curtis succeeds Dr. Vistasp Karbhari, who is now president of the University of Texas-Arlington.
---
You may also be interested in: