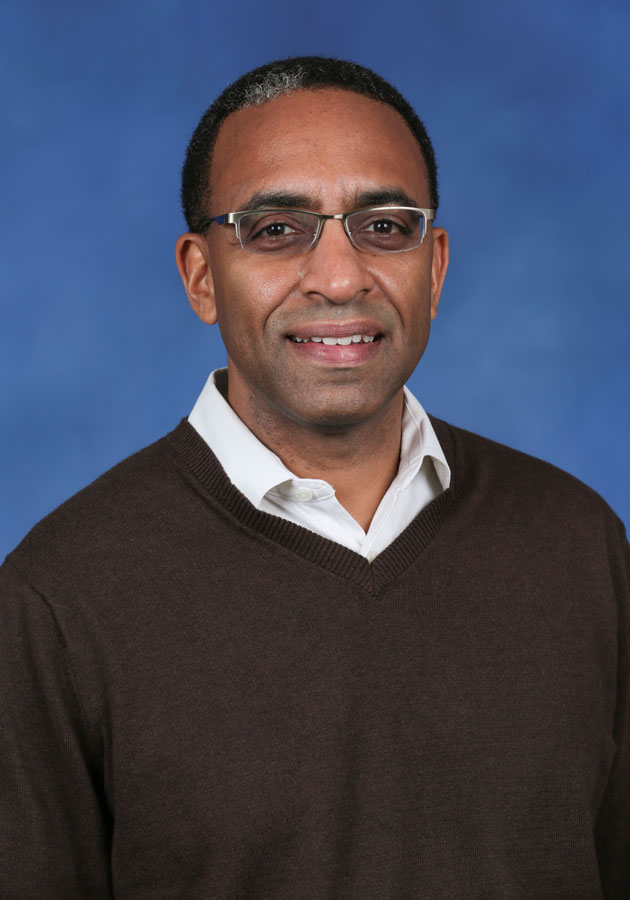 HUNTSVILLE, Ala. (Dec. 11, 2013) - In his recent receipt of the National Role Model Faculty Mentor Award from Minority Access Inc., Dr. Emanuel Waddell sees a steady line of continuity and responsibility that spans high and low points in the campus history of The University of Alabama in Huntsville (UAH).
"Wilson Hall here on campus is named after Dr. Harold Wilson, who is deceased and was the dean of the College of Science," said Dr. Waddell, an associate professor of chemistry. "He mentored Dr. Adriel Johnson, and Adriel mentored me."
Dr. Johnson, whose minority outreach efforts were well-known and prodigious, was one of three faculty members who lost their lives in a 2010 campus shooting.
"It was a big honor to be nominated because Adriel Johnson was the last one from UAH who won it," said Dr. Waddell, who accepted the award in Washington, D.C.
Dr. Johnson's work included, but was not limited to, working with the Louis Stokes Alliance for Minority Participation, the Minority Graduate Student Association, minority students who were on track for pre-med careers and one-on-one mentoring with large numbers of graduate and undergraduate students.
Nominated for the award by Dr. Louis Dale, vice president for equity and diversity at the University of Alabama at Birmingham, since 2010 Dr. Waddell has been assuming some of the functions previously conducted by Dr. Johnson.
"I was surprised to get nominated," he said. The mentoring is work he considers vital, ongoing and unfinished, and he comes to it as a result of his own experiences being mentored.
"We are working at it, but there's still work to do," Dr. Waddell said, citing as his driving influences those who influenced him early in his life.
"I can go as far back as to high school, when a professor at North Carolina State named Dr. Richard Felder mentored me," he said. "In college, I have had the privilege to be mentored by several professors at Morehouse College. Dr. David Cooke III, Dr. Robert M. Dixon and Dr. Marcellus Barksdale - all three of them had a large impact." Additional mentoring came from Dr. Steve Soper and Dr. Isaiah Warner at Louisiana State University.
When he arrived on the UAH campus, Dr. Johnson reached out. And now in turn, it's his time to do the same.
"Really, it comes down to that you have achieved success and you are obligated to pay that back," Dr. Waddell said.
He's working closely with the Undergraduate Minority Mentoring Program, coordinated by Rosemary Robinson.
"It's starting to grow," he said. "I see a lot of African Americans but I don't yet see a lot of Hispanics. I don't see a lot of Native Americans. Demographic trends indicate that we must do more for minorities."
Mentoring students involves helping them with navigating undergraduate or graduate school to offering encouragement and support in life decisions.
"You're just an open ear, in terms of my philosophy," said Dr. Waddell. "I don't sugar-coat stuff. It's not supposed to be easy. And when I'm talking with students, I try to be transparent about my personal stories in relating to them, as well.
"At the end of the day, it's advice," he said, "and I'm not mad at them if they don't follow it."
Extending the line of continuity into the future is enough.
"It goes back to that legacy," he said. "If you have been mentored, then you should mentor someone else."
---
You may also be interested in: