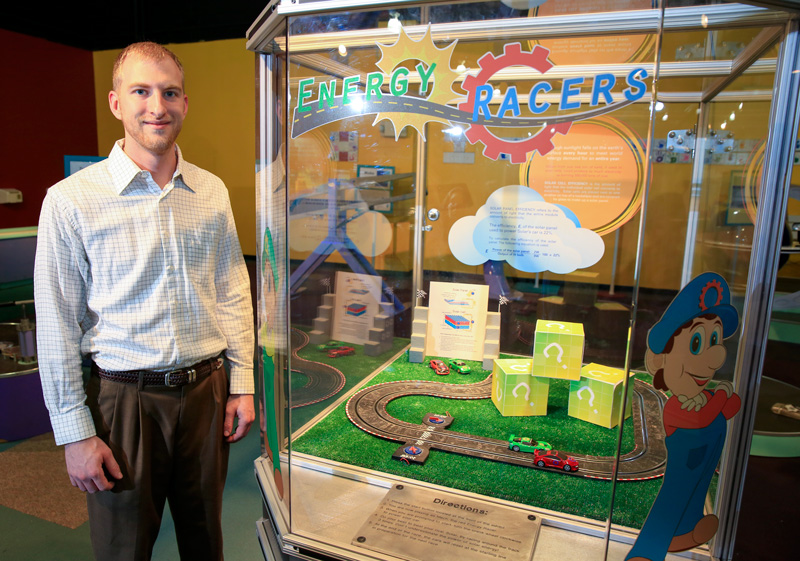 HUNTSVILLE, Ala. (Dec. 10, 2013) - Robby Renz enjoys the rush of a challenge. The University of Alabama in Huntsville (UAH) senior mechanical engineering student has "always enjoyed building things and taking things apart," from Legos as a youngster to cars and electronic devices as a teenager.
It wasn't only the dismantling and the reassembling of things that excited Renz - the why of how something worked sparked his imagination much more. "I have always enjoyed inventing products as well. I was originally interested in being an architect, which prompted me to do drafting in high school and college. I was not attracted to the low statistics of just being able to design modern type houses. This led me to a drafting job with a mechanical engineering consultant group in Huntsville. I immediately knew from the experience at that job, that this was what I wanted to do," Renz said.
A 2005 graduate of Sparkman High School and Madison County Career Academy, Renz graduated with an advanced diploma, and technical major in architectural and design drafting. He received numerous awards including Outstanding Design Drafting Student Award (2004), Skills USA VICA, FIRST Robotics Team-second place at semi-finals, and fifth at finals. After graduating high school, Renz attended Calhoun Community College and transferred to UAH in 2009, declaring mechanical engineering as a major. Renz knew as early as the seventh grade that he would attend UAH, because of the school's "good reputation and location."
"I think my educational experience at UAH was superior … such as, smaller classroom sizes that allowed time for more questions and more time for the teachers to have one on one time with their students. I can't walk a few steps in Tech Hall without saying hello to someone I know. UAH also has a machine shop unlike most colleges. I believe a hand on experience is a must for engineering students."
Renz holds a special fondness for his UAH professors including Dr. Donald Wallace, Dr. Kader Frendi, Dr. Farbod Fahimi, Dr. Francis Wessling, Dr. Christina Carmen and Dr. John Gilbert, because of their skill and ability "to break difficult subject matter down to a very understandable format." The accelerated level of undergraduate research conducted by mechanical engineering students, Renz said, was expected - and not a surprise.
"I worked full-time my entire undergraduate experience, which made the research work fairly easy, from my work experience and knowledge. The hardest time for me was going to school full-time and working full-time some semesters. The research and build projects were as challenging as you wanted to make them. I feel like I chose very challenging projects which resulted in a great learning opportunity and gratifying experience."
This semester, Renz (serving as team lead) and members of his senior design class created an exhibit that actively engages and targets fourth and fifth grade elementary school students, teaching them about solar energy, mechanical energy, and engineering systems. The exhibit was recently delivered to Sci-Quest, Huntsville's hands-on science center.
"We partnered with Sci-Quest, Women in Defense (Tennessee Valley Chapter), ERC Inc., and LSINC, for the intent of building this exhibit to stimulate children's interests in science and engineering, and to promote science, technology, engineering and mathematics (STEM) careers, particularly in the government sector," Renz explained. "The result of this exhibit was an interactive exhibit that included two race cars that race around a track, one powered by solar energy and the other powered by the operator to demonstrate mechanical energy. This was a fun and very challenging project. Our UAH group consisted of seven mechanical engineering majors and one aerospace engineering major. We designed and fabricated the entire mechanical and electrical system ourselves."
While at UAH, Renz expertly juggled a full-time employment and university curriculum schedule, along with participation in many extracurricular mechanical engineering activities including contests and competitions such as the ASCE-Concrete Canoe Competition: (holding the position of captain for 2013), where the team won five awards, including second place overall at regional's, first place in final product, and first place for design paper. Renz was nominated to serve as president of ASCE. In addition to holding the position of team lead for a group of eight people in UAH's senior design course, he also served as a member of Alpha Sigma Pi - National Society of Leadership.
Renz, who is employed by Huntsville-based company LSINC, was recently promoted to Mechanical Engineer II. LSINC provides business and communications strategies and product development services to federal and commercial clients in the U.S. and abroad. He plans to begin graduate school at UAH in fall 2014.
**EDITOR'S NOTE: The UAH Fall Commencement ceremony begins at 2 p.m., on Sunday, Dec. 15, and will be held in the Propst Arena at the Von Braun Center in downtown Huntsville. UAH is expected to award 921 diplomas at its fall graduation ceremony - 578 bachelor's degrees, 316 master's degrees and 27 doctoral degrees.
For more information, contact:
Joyce Anderson-Maples
256.824.2101
maplesj@uah.edu
---
You may also be interested in: