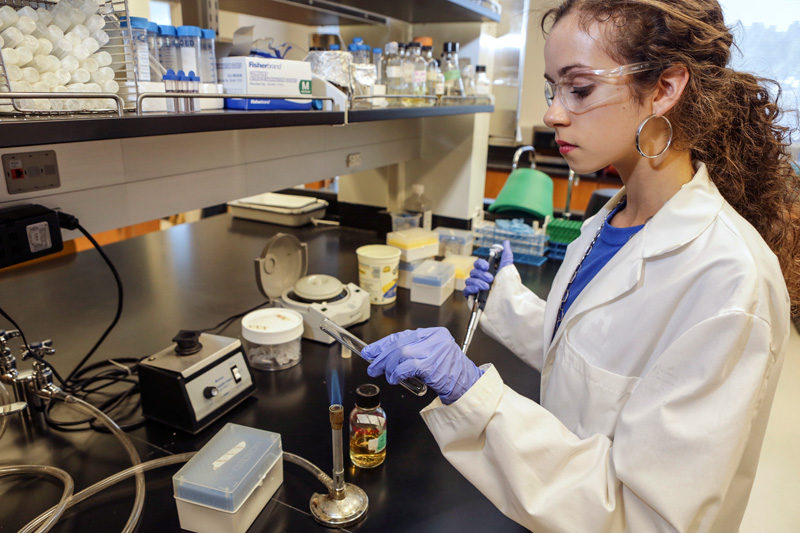 HUNTSVILE, Ala. (Nov. 25, 2013) - The Christmas season will have a service oriented theme for student members of The University of Alabama in Huntsville's (UAH) Hispanic Student Organization (HSO) this year.
The newly formed group recently organized a service trip to Puerto Rico to reach out to high school students in Hispanic communities to promote college education. In December, six students and one faculty advisor will travel to the island. "We will share our college experiences with potential UAH students and discuss the importance of obtaining a college degree," said Maria Emma Torres, president of the HSO.
Torres, a junior at UAH, is double majoring in chemistry and biology. A graduate of East Limestone High School, she was born in Huntsville and raised in the Harvest community. Her parents are native Puerto Ricans, and the family settled in North Alabama after her father was hired at NASA.
UAH students will take toiletries, clothing, toys, and gift cards to poor families who live in Yauco, also known as the "City of Coffee," for its vast coffee-agriculture, and tourism. Additionally, Torres said, the UAH students will visit elementary schools in Yauco to provide portable sporting equipment, such as basketballs. The HSO group will also donate school supplies to students in rural areas.
In addition to visiting schools in Yauco, HSO members will be talking to about 300 high school students at Escuela Juana Colon in Comerio, Puerto Rico. "I anticipate high school seniors will consider applying to UAH and start attending in fall 2014," Torres said. "Our biggest recruiting challenge will be in the rural schools, since many of those students will be first generation college students. In the urban areas, students generally come from families whose parents attended college."
"Dr. William Setzer (Chemistry Department Chair) our trip advisor, will be meeting with chemistry professors from The University of Puerto Rico at Mayagüez, as well as Puerto Rican botanists during the trip, with hopes of setting-up a lab in the near future to begin collecting plants for his medicinal chemistry research that he conducts at UAH," she added.
A student in the university's Honors College, Torres said, UAH was her first choice for two reasons: "it was close to home and had a great reputation in the sciences." She is predicting Puerto Rican high school students' interest in science, technology, engineering and math (the STEM subjects) will be huge. "We expect to have students commit to all types of majors."
Earlier this year, Torres participated in a 10-week summer program at Marshall Space Flight Center. If she keeps with her current curriculum schedule, Torres will graduate in May 2015.
The HSO service trip to Puerto Rico was funded by the UAH Office of Diversity.
***EDITOR'S NOTE
: The HSO is still accepting donations, please contact Maria Torres at:
met0010@uah.edu
.
For more information, contact:
Joyce Anderson-Maples
256.824.2101
maplesj@uah.edu
---
You may also be interested in: