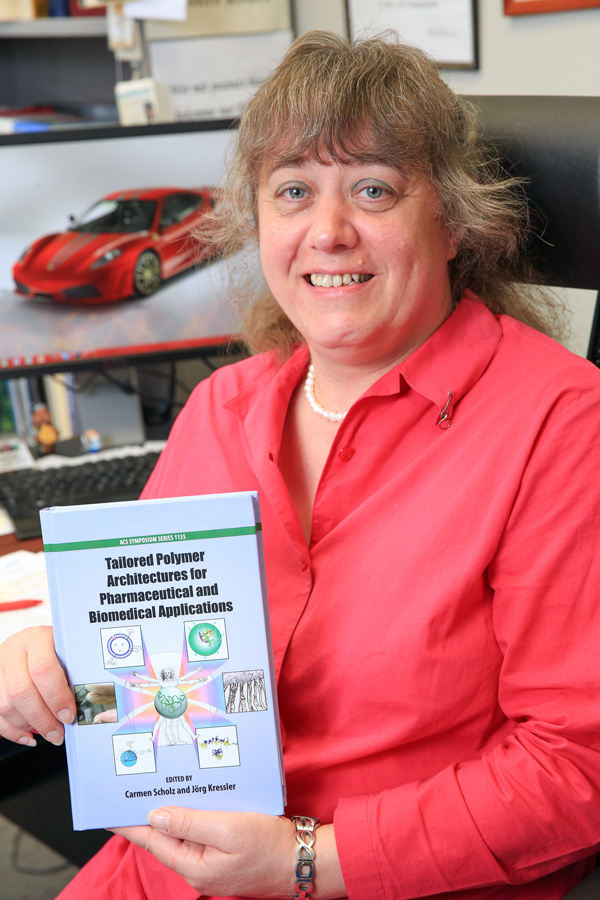 HUNTSVILLE, Ala. (Nov. 26, 2013) - A new book in the American Chemical Society (ACS) series entitled "Tailored Polymer Architectures for Pharmaceutical and Biomedical Applications" has been co-edited by University of Alabama in Huntsville (UAH) chemistry professor Dr. Carmen Scholz.
The book is the fifth ACS book Dr. Scholz has edited. It contains chapters contributed by top researchers in the biomedical polymer field, including Dr. Holger Frey, professor at Johannes Gutenberg University, Mainz; Dr. Kathyrn Uhich, dean of mathematical and physical sciences and professor of chemistry, Rutgers; Dr. Harm Anton Klok, professor of materials and chemical sciences, ETH Lausanne; Dr. Kazunori Kataoka, professor of chemistry, The University of Tokyo; Dr. Buddy Ratner, Michael L. & Myrna Darland endowed chair and professor of bioengineering and chemical engineering, University of Washington; and 14 others.
With co-editor Dr. Joerg Kressler, professor at Martin Luther University of Halle, Germany, Dr. Scholz outlined the book, picked the topics and chose the authors. Some authors presented their work at an ACS meeting in 2012. Others were chosen because their work fit the theme of the book. Dr. Scholz oversaw the publication timeline, the peer review process and the final book organization.
"This book summarizes the current knowledge and understanding of polymers for biomedical applications," Dr. Scholz said. "It summarizes new achievements in the following sub-categories: new designs for polymers, polymers for modern therapies, polymers for the delivery of therapeutic reagents, polymers for tissue engineering, and polymers for surfaces and sensors."
She agreed to co-edit the book as a tribute to a friend and colleague, Dr. Ray Ottenbrite, professor emeritus at Virginia Commonwealth University.
"Ray contributed an enormous body of work to the field of biopolymers. He is the founding father of the Biorelated Polymers Symposium that is held every other year at an ACS meeting," Dr. Scholz said. "I have helped him in the past few years to organize this symposium series, and I just finished organizing the next one, to be held in March in Dallas.
"Ray is not just a very successful scientist, he has also helped numerous young scientists and professors to find their way in the academic world," she said. "As editor-in-chief, he still takes care of the Journal of Bioactive and Compatible Polymers. This year, Ray was named as one of the 2013 ACS Fellows. An educator, a scientist and a wonderful human being."
---
You may also be interested in: