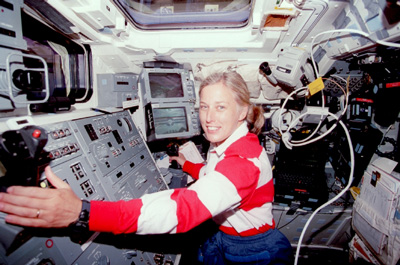 HUNTSVILLE, Ala. (Nov. 14, 2013) - When Dr. Jan Davis was growing up in Huntsville, Ala., in the 1960s, there simply were no women astronauts. So it wasn't something The University of Alabama in Huntsville (UAH) alumna ever considered becoming.
But in 1978, when the first female candidates were selected to be part of NASA's Astronaut Corps, Dr. Davis began to rethink her career path. And in 1984, while working as an aerospace engineer at NASA Marshall Space Flight Center (MSFC) and attending UAH, she applied to be an astronaut.
"I think having a graduate degree - and my pilot's license at that point - it just seemed like I might have the qualifications, so I might as well give it a shot," she says. "I knew it was a long shot but I realized it could happen. It was a possibility."
Needless to say, Dr. Davis was not chosen from among the 5,000 people who applied that year, but she was selected three years later. And since becoming an astronaut in 1987, she has logged more than 673 hours in space over three flights: STS-47 (1992), STS-60 (1994), and STS-85 (1997).
Growing up
Born in Cocoa Beach, Fla., Dr. Davis moved with her family to Huntsville when she was in elementary school. And although she's lived other places, she says, "I still think of Huntsville as my hometown."
After all, it was in the Rocket City where she got her first introduction to space travel. "I think if you grew up anywhere in the 1960s when we were going to the moon, it's in your blood, but particularly here," she says.
She attended Huntsville High School, graduating in 1971 and then going on to pursue a bachelor of science degree in applied biology from the Georgia Institute of Technology and in mechanical engineering from Auburn University.
"I liked the idea of using engineering to do things that help people and I was going to go into bioengineering but there were no jobs there," she says. "So I went where the jobs were." And that was Texas, where she took a job with Texaco as a petroleum engineer in tertiary oil recovery.
But two years later, shortly before she says "the bottom fell out of the petroleum industry," she was back home in Huntsville, working for NASA MSFC and pursuing her graduate degree at UAH.
At UAH
The contests they have, like the Moon Buggy Race, the Mini-Baja Competition, and Concrete Canoe Competition, are really good activities for students so that they can apply what they learn in school.
Dr. Jan Davis
UAH Alumna
Attending graduate school was always part of Dr. Davis' plan. "Both of my parents went to graduate school and that's what I wanted for myself," she says. "So I went to school at UAH while I was working at NASA. It was convenient that they had night classes and I could work full time."
Of course, between working and studying, Dr. Davis says she wasn't able to enjoy the college experience beyond attending the occasional hockey game. But she was able to receive a practical mechanical engineering education that went beyond the textbook.
"My advisor was working with the Army so he knew what we needed from a practical standpoint for our jobs," she said. "So it was good theory and also good application." And that's still true for students at UAH today, she adds.
"The contests they have, like the Moon Buggy Race, the Mini-Baja Competition, and Concrete Canoe Competition, are really good activities for students so that they can apply what they learn in school," she says. "It's important to have that real world experience."
It was after finishing her master's and beginning her doctorate that Dr. Davis applied to be an astronaut. And once she was selected for an interview, she says, "I made it my goal to finish my Ph.D. and become an astronaut. To be competitive, you really need it."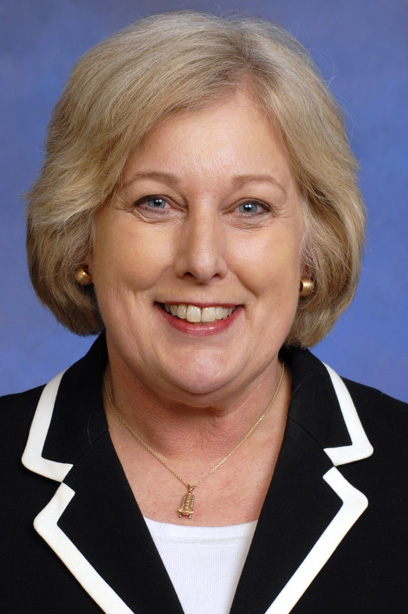 In space
Dr. Davis may have gone on to become an astronaut, but she says she was able to use many of the things she learned at UAH during her time in space.
"Over the three flights we had a lot of medical, materials, and robotics experiments," she says. "It was hard work! We were up there for a reason and we didn't have a lot of time to just look out the window."
Her graduate work also helped her communicate with the scientists who had experiments on her spaceflights. "When you're on a mission and you're working with scientists, they respect your ability more when you have a PhD," she says.
Once in a while, however, she found time to cut loose. "Weightlessness was fun!" she says with a laugh. "My mom said I looked like I was right at home and that's how I felt - like I belonged there."
Looking forward
In 2005, after going on to serve as MSFC's director of Safety and Mission Assurance, Dr. Davis retired from NASA. "I was eligible to retire and it seemed like a good opportunity to learn how private industry worked and to expand my knowledge," she says.
But while she may now be the vice president and deputy general manager of Jacobs Engineering and Science Services and Skills Augmentation Group, she hasn't strayed very far from her original home. "I oversee the almost 700 employees who support the MSFC programs and projects," she says. "So it's a good way to still stay with NASA!"
As for what she'll do next, Dr. Davis says she doesn't know for sure. But whatever it is, it will involve helping our nation's youth learn about careers in the fields of science, technology, engineering, and math - especially our young women.
And if that means inspiring them to become an astronaut, just as Dr. Davis was inspired by the women astronauts who came before her, "even better," she says, "because I can share that with them." She does have one piece of advice for them, however.
"Rather than going into a particular field or working somewhere just to be an astronaut, you should find something you're really passionate about and love," she says. "Because you'll do your best at things you're passionate about."
---
You may also be interested in: