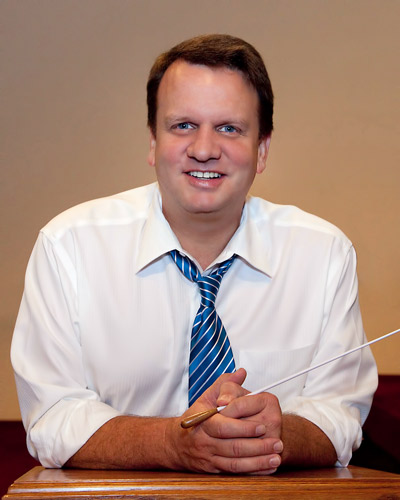 HUNTSVILLE, Ala. (Nov. 6, 2013) - The University of Alabama in Huntsville (UAH) is pleased to announce the return of the UAH Invitational Honor Band to Randolph School's Thurber Arts Center for its sixth year. The two-day clinic, which comprises 175 carefully selected middle and high school students from across the Tennessee Valley, will be held Thursday, Nov. 14, to Saturday, Nov. 16.
Over the course of the two days, the students will rehearse with guest composer Rob Grice of Troy University and guest conductor Catherine Rand of the University of Southern Mississippi, and partake in master classes hosted by the UAH Music Department faculty.
Two concerts will also bookend the clinic. The first, an exhibition concert by the UAH Wind Ensemble, will be held on Thursday, Nov. 14, at 7 p.m.; the second, a finale concert by the middle and high school Invitational Honor Bands, will be held on Saturday, Nov. 6, at 2 p.m. (CD and DVD recordings of the Honor Band concert will also be available in the lobby immediately before and after the concert.)
"Each year the UAH Honor Band extends its reach, drawing hundreds of student nominations from across Alabama and Tennessee. For the students who are selected, it is a true honor to participate in an event of this caliber," says Dr. David Ragsdale, Chair of UAH's Music Department. "We are honored to host the students and their devoted teachers for 3 days and are grateful to Randolph for their partnership in hosting this wonderful arts event for our community and state."
This year's clinic schedule is as follows:
Thursday, Nov. 14, 2013
4:00 PM Individual Warm-up
5:00 PM General Meeting followed by Chair Auditions
7:00 PM CONCERT: UAH Wind Ensemble
Friday, Nov. 15, 2013
9:00 AM Rehearsal Session I
1:30 PM Rehearsal Session II
4:30 PM Master classes with UAH Faculty
7:00 PM Rehearsal Session III
Saturday, Nov. 16, 2013
9:00 AM Rehearsal Session IV
2:00 PM Concert
---
You may also be interested in: