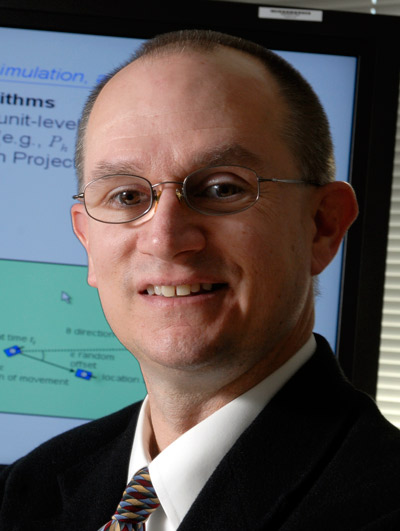 HUNTSVILLE, Ala. (Nov. 5, 2013) - Dr. Mikel Petty, director of the Center for Modeling, Simulation and Analysis at The University of Alabama in Huntsville (UAH), has contributed to a new Institute of Electrical and Electronic Engineers (IEEE) standard for distributed simulation as Drafting Group editor of the Product Development Group.
Distributed simulation systems offer more flexible computational power that can work in larger systems that evolve rapidly.
"Using the new standard will reduce the overall effort required to develop complex simulation systems involving multiple architectures," Dr. Petty said. "It will also increase the interoperability, which is the ability to communicate within and be reused in different systems, of individual simulation applications developed according to the standard."
Developed by a group working under the auspices of the Simulation Interoperability Standards Organization (SISO), the new standard was recently formally approved by the IEEE Standards Association Standards Board.
Dr. Petty's contributions included consolidating the contributions of several distributed simulation experts in the group and integrating them into the standard. He also wrote initial versions of several sections of the standard.
The standard, titled "Recommended Practice for Distributed Simulation Engineering and Execution Process Multi-Architecture Overlay" and designated IEEE 1730.1™, is an overlay ­- or supplement - to a prior IEEE standard, "Distributed Simulation Engineering and Execution Process," IEEE 1730™.
The previous standard (designed IEEE 1730™) lays out a comprehensive and general systems engineering process for developing and using distributed simulation systems. The new standard (IEEE 1730.1™) adds information specific to developing and using distributed simulation systems that combine more than one distribution simulation architecture and protocol. It identifies the special technical issues associated with multi-architecture simulation environments and provides technical guidance to effectively address those issues.
IEEE 1730.1™ is expected to be published and available by the end of 2013. The SISO website is www.sisostds.org.
---
You may also be interested in: