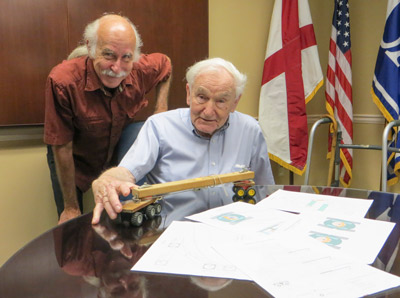 HUNTSVILLE, Ala. (Oct. 14, 2013) - A senior-level design class and the Office of Technology Commercialization at The University of Alabama in Huntsville (UAH) are working with an 89-year old former von Braun rocket team member to refine and model a device that will make semi-tractor trailer trucks turn better.
It was his frustration at seeing the unwieldy manner in which semis operate on the road that first got Ernst Evers interested in making them more responsive.
"As a motorist, I encountered these 18-wheelers and I thought they were clumsy and a pain for motorists and also for their drivers," Evers said. Trucks have trouble turning in narrow lanes because of their length and drivers often must swing the rig out wide in a direction opposite the turn before making it. These hindrances are an insurance liability because of the potential for serious collisions or damage, he said.
Evers had the engineering background for the task. After all, he'd been a German "latecomer," in his estimation, to the Huntsville rocket team of Dr. Wernher von Braun. He worked on - what else? - guidance and control systems.
It wasn't long before he'd devised a rudimentary wooden model that could improve how trucks turn. His longtime friend and business partner Roy Simmons turned the model into drawings as the idea underwent several revisions.
"You can take my drawings and put them into a CAD program, and with just a little tweaking, you've got engineering drawings," Simmons said.
Here's how the patent-pending system works: A moveable bogie on which the rear wheels of the truck are mounted is controlled through a cable system from the fifth wheel hitch where the trailer attaches to the tractor. The rear wheels turn when the tractor turns. The trailer's rear wheels also track more closely with the path the rear wheels of the tractor are taking.
I thought it would be a great experience for our students to help Evers in developing a working model. Not many students in the 21st century can claim to have worked with a von Braun team member. This is an honor.
Kannan Grant
Director
UAH Office of Technology Commercialization
"The bogie wheels move the center of rotation to the center of the vehicle," Evers said. "When you are turning, the virtual length of the vehicle with this device is half as long. It behaves like a semi trailer half as long."
In a refinement, a device was added that automatically turns the four sets of wheels independently at the same time the bogie is turning.
When the semi is operating over the road, the rear wheels are fixed in place.
"You have a primitive mode and a refined mode," said Evers. "For city traffic, you would switch to a refined mode. For the highway, you would be in primitive mode."
The mechanism is installed on the trailer, so any existing standard tractor can pull it. It's removable for servicing or to convert a trailer back to fixed wheels. This flexibility allows for retrofit of any straight bed trailer with the mechanically operated system. Drop-bed trailers would require use of an electronically controlled system with servo motors on the rear bogie to control it in turns.
"This idea strives to be useful for any tractor," said Evers. "The tractor does not have to be modified." All that's required in the tractor is a switch for the driver to activate the system.
"It's a minimal learning curve for a driver to learn how to operate the system," Simmons said. In one precise maneuver drivers make, when a truck prepares to back up to a dock or unloading point "it will require less than one-half the space to align" it for that task, said Evers.
UAH GETS INVOLVED
With the mechanism developed, the pair turned to UAH for further help, meeting with Kannan Grant, director of UAH's Office of Technology Commercialization (OTC).
"Ernst Evers contacted us after talking to some people in town who suggested the Office of Technology Commercialization as a resource in anything to do with intellectual property, intellectual property protection, intellectual property strategy, etc.," Grant said. "It was clear from the beginning that this was not something developed at UAH. However, I thought it would be a great experience for our students to help Evers in developing a working model. Not many students in the 21st century can claim to have worked with a von Braun team member. This is an honor."
OTC evaluated the intellectual property, facilitated the necessary agreements and contacted Dr. Christina Carmen, a lecturer whose students took on the task in Mechanical and Aerospace Engineering 490 Engineering Design: Product Realization.
A team of five students selected the project for fall and spring semesters as their senior capstone design class project. Seniors Jason Ruzicka, Berta Wesselman, Daniel Dary, Ryan Qualls and Joseph Keegan are all interested in working in the automotive field after graduation. They will review the conceptual design and improve or refine it as needed with the involvement of the two business partners, who are their customers.
Among the team's tasks this fall are to conduct detailed technical analysis, materials analysis, risk assessments, human factors research, cost analysis, manufacturing requirements and to provide detailed drawings. Formal design reviews will utilize the NASA Systems Engineering Handbook.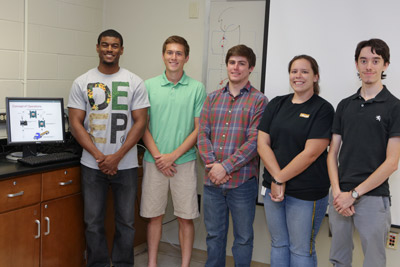 "In two weeks, the students went from not knowing anything about the product to talking to trucking companies, getting their input and working out production costs," said Simmons. "It's been very impressive to watch."
The response from truck manufacturers has been very positive, said Ruzicka, who is the student design team lead. "Only one person out of everyone we contacted wanted to remain using the conventional process," he said. "We have many people who are very excited about this design and cannot wait for the end product to be produced."
The UAH team is in the middle of the design phase, Ruzicka said. "As of right now, we have learned what requirements are important to the operator of the system," he said, such as ease of installation, backing up, maintenance and operation. The system must also be highly durable and reliable.
Currently, the students are using Solid Edge three-dimensional computer renderings to design a model that can be animated to see how each component interacts with another. "In doing this we can spot any obstructions and refine the design," Ruzicka said.
During spring semester, the UAH team will fabricate either a scaled model of the design or a sub-system. That will depend upon the available budget and manufacturing complexity. The team will provide Evers and Simmons with a complete and detailed final report.
"The students were excited about working with Ernst Evers," said Dr. Carmen. "They are honored to work with such a brilliant individual who played a role in American space flight history."
---
You may also be interested in: