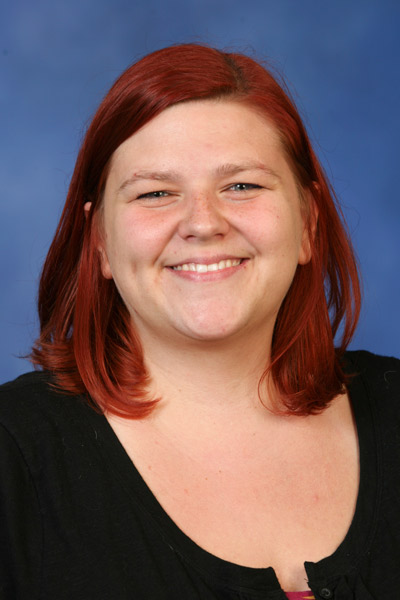 HUNTSVILLE, Ala. (Oct. 10, 2013) - English major Sarah Klimko decided to attend The University of Alabama in Huntsville (UAH) because she says "there is so much happening in Huntsville." Plus, she adds, "it is such a growing area that it made sense to pursue my degree at a college like UAH with ties to the professional community."
Initially she intended to sign up for teaching classes, but she quickly found out that she was more interested in writing. "The university's location within a technologically minded community really made writing seem like a viable option for me," she says. "Most people only think of career opportunities for engineering students in this area after graduation, but these companies also need writers."
During her second semester of classes, Klimko became active in Sigma Tau Delta, the English honor society. "I mainly wanted to be involved," she explains, "and I wanted to develop a sense of camaraderie with other students who have the same interests as me."
Before long, Klimko joined the organization's leadership as treasurer. The following year she was nominated as president. "Becoming president wasn't even a goal for me, because I never really saw myself in that kind of position," she says. Nevertheless, she accepted the nomination despite her trepidation.
Someone who had no such reservations? Dr. Eric Smith, English professor and faculty advisor for Sigma Tau Delta. "As one of our hardest-working and most passionately invested students, Sarah exemplifies the qualities that we encourage in our English majors," he explains. "As president of our chapter, she demonstrates an impressive blend of personal enthusiasm, innovation, and organizational skill that inspires her fellow members and that will set a standard of excellence for our future officers."
And after a semester in the position, Klimko is now more comfortable with her leadership role. "I realize now that I can't accomplish everything on my own, and no one expects that. I couldn't accomplish anything without the help of the other officers and members," she says.
I couldn't accomplish anything without the help of the other officers and members.
Sarah Klimko
President, Sigma Tau Delta
She's also brought some of her own passions into the group, particularly her interest in volunteerism. "One of the goals outlined in the Sigma Tau Delta mission statement is to promote literacy," say Klimko. "So we're working on organizing a fun run for a local library, and a day for Sigma Tau Delta members to read with local school children."
In addition to volunteer work, Sigma Tau Delta is gearing up for the National Convention in Savannah, Ga. "The National Convention is a great chance to see what other scholars are writing about, and it also provides the opportunity to share your own ideas. The convention isn't until February, but we're planning to have a practice session beforehand for our members who are submitting papers," says Klimko.
But the group won't be all work and no play this semester. The honor society will have their semi-annual Book and Bake sale Oct. 29 and 30, with a Halloween party to cap off the event. "It takes a lot of work to pull off a book and bake sale, so I thought a costume party would be a fun reward for our efforts," says Klimko, who plans to dress as a dinosaur.
And when you're balancing such a busy schedule, Klimko knows that making time for fun is important. "Life is only going to get busier when I graduate and start looking for a writing job," she says, "so I'm going to enjoy it while I can!"
---
You may also be interested in: