Kathy Hawk to lead UAH's global understanding initiative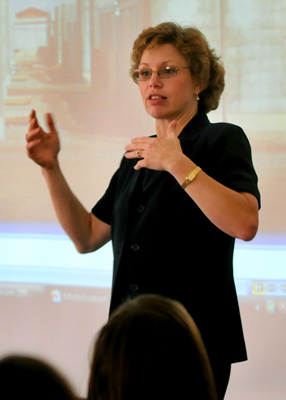 HUNTSVILLE, Ala. — The University of Alabama in Huntsville has appointed Dr. Kathy Hawk as the director of the university's Global Understanding Initiative.
Sigmatech, through a gift to the university, funded the Baba Budha Chair to promote global education and understanding, and to serve all facets of the student community, to include undergraduate and graduate students, many of whom are or will be government employees at Redstone Arsenal in the areas of Security Assistance and Foreign Military Sales. As a precursor to the recruitment of a world-class scholar, Professor Hawk will coordinate efforts in the following areas:
Establish the ground work for the Global Understanding Center of Excellence
Leverage and strengthen political science, business, and engineering at UAHuntsville departments to develop curriculum and teach courses at the undergraduate and graduate levels to create greater global awareness
Serve as liaison to her counterpart in India and other key universities/institutions to set up focused programs of interaction and establish new relationships
Collaborate with the University of Alabama System in development of international partnerships and programs, including India and especially those with a focus on countries associated with U.S. Security Assistance programs
Develop courses in security assistance at the undergraduate and graduate levels, including potential individual development certification programs for government employees following the Department of Defense (DoD) 3 Level model for certifications.
Sigmatech executives praised Dr. Hawk's appointment.
"Kathy is a natural to get this global understanding effort up and running," said CEO and President Maj. Gen. (Ret) Joseph Bergantz. "With the experience she brings with her on-the-ground international experience with the Department of Defense, we believe she is well suited for the task."
UAHuntsville Provost Vistasp Karbhari applauded the vision of Sigmatech and its founder, Dr. Gurmej Sandhu.
"The establishment of the Global Understanding Center of Excellence is an important aspect of the growing relationship between Redstone Arsenal and UAHuntsville," said Dr. Karbhari. "We appreciate the confidence that Sigmatech is demonstrating in how our campus can serve in a leadership role to establish and grow strategic relationships with India and other national partners involved in U.S. security assistance programs.
"These partnerships with Redstone define the university's special role in the Huntsville community, and how we can help shape the future of the role of this community and Redstone Arsenal in global affairs."
Previously, Dr. Hawk served as the Chair of the Political Science Department at The University of Alabama in Huntsville where she will continue to teach a variety of courses at the undergraduate and graduate level in international relations, U.S. foreign policy, U.S. national security policy and assorted regional studies courses.
Dr. Hawk has an extensive international background including an assignment in Egypt as a Foreign Service Officer with the U.S. Information Agency, and worked on international defense issues under contract to the Air Force and the Strategic Defense Initiative Organization.
Additionally, as a Naval Reserve Officer, she commands a 40-member reserve unit that performs scientific and technical analysis for the U.S. Navy. Her most recent active duty military assignment was with the Combined Joint Special Operations Task Force in Balad, Iraq in 2007-2008. Dr. Hawk has been a member of the faculty at The University of Alabama in Huntsville since 1995.
The Baba Budha Chair in Global Understanding is part of a dual chair concept with specialization in Indian studies, originating at UAHuntsville. The reciprocal chair is the Baba Deep Chair in Global Understanding, with specialization in American studies, which is currently being established at Guru Nanak Dev University, Amritsar, India.
The program, which was established as part of a $1million endowment from Sigmatech with personal initiative of Dr. Sandhu, the chairman of Sigmatech, is designed to assist UAHuntsville in enhancing global understanding, growing business opportunities in Alabama, and improving international relations.
You may also be interested in: