Robert Altenkirch was installed president of The University of Alabama in Huntsville
You can read the President's Installation Speech here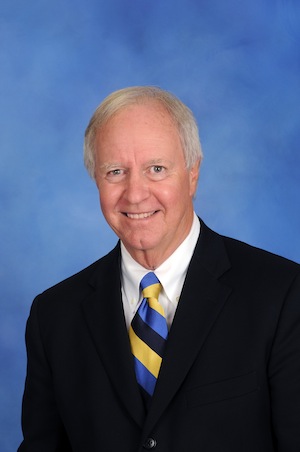 HUNTSVILLE, Ala. — Robert A. Altenkirch was installed as the sixth president of The University of Alabama in Huntsville.
The ceremony took place August 21, 2012 at 10:30 a.m. in the Pei Ling Chan auditorium of the Business Administration Building. Distinguished guests include Congressman Mo Brooks, State Senator Bill Holtzclaw, State Representatives Phil Williams and Howard Sanderford, Huntsville Mayor Tommy Battle, and Huntsville City Councilman Mark Russell.
Dr. Altenkirch was hired by the University of Alabama Board of Trustees in September 2011, and began work on the campus the following month. The installation ceremony was part of UAHuntsville's convocation, a celebrated day at universities that marked the beginning of the academic year.
UA System Chancellor Robert Witt said Altenkirch's leadership skills, his focus on student success, and ability to strengthen research are an excellent fit for UAHuntsville.
"Robert Altenkirch has already demonstrated that he has the leadership qualities that will bring growth in areas that are crucial to UAHuntsville — particularly research and student enrollment," said UA System Chancellor Robert Witt. "UAHuntsville fills a vital role in the intellectual and workforce development of North Alabama, and President Altenkirch is precisely the right person to guide those efforts."
Dr. Altenkirch was named UAHuntsville's sixth president after serving as president of the New Jersey Institute of Technology (NJIT). During his nine-year tenure at that university, NJIT's research program approximately doubled in size. Student enrollment reached the largest in its history while he was president.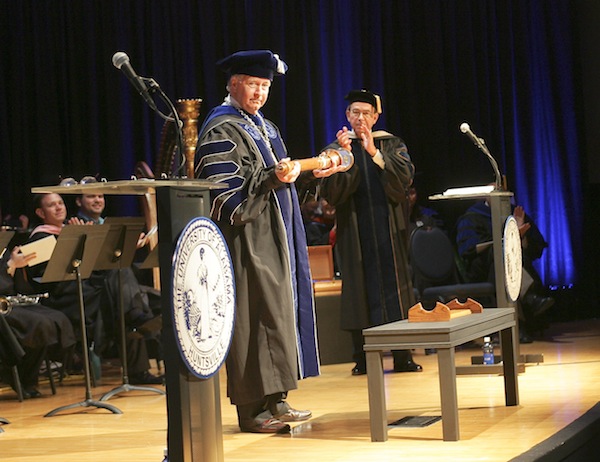 UAHuntsville President Bob Altenkirch accepts the academic mace from UA System
Chancellor during his installation ceremony today.
Dr. Altenkirch previously served as Vice President for Research at Mississippi State University (1998-2002), where he is credited with building the foundation for unparalleled growth in MSU's research program. Before his arrival, science and engineering expenditures, as reported to the National Science Foundation (NSF), totaled $84 million. For 2010, MSU's NSF-reported expenditures reached $215 million.
He was Dean of Engineering at MSU (1988-1995) when the NSF awarded the institution the Engineering Research Center (ERC) designation. The ERC has become a nationally prominent center for computational fluid dynamics research and applications. While at MSU, Dr. Altenkirch helped lead development of the Thad Cochran Science Park, a multi-tenant incubator facility, and was instrumental in securing a $1 billion Nissan investment for the state.
Dr. Altenkirch earned his Ph.D. from Purdue University, an M.S. from the University of California, Berkeley, and a B.S. in Mechanical Engineering from Purdue. He and his wife Beth have two adult children.
For more information,
contact Ray Garner
256.824.6397
(256.UAH.NEWS)
ray.garner@uah.edu