Lyon named Advancement VP at UAHuntsville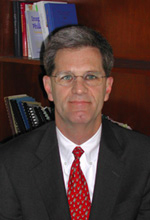 HUNTSVILLE, Ala. — Robert Lyon has been named Vice President for University Advancement at The University of Alabama in Huntsville.
Lyon joins the university after serving for the past eight years as vice chancellor for university advancement at The University of Tennessee at Chattanooga, and the executive director of the University of Chattanooga Foundation.
UAHuntsville President Bob Altenkirch announced his appointment today. Lyon begins his assignment on Sept. 4. Altenkirch said Lyon brings broad, experienced leadership to the components of university advancement, communications/marketing and branding, alumni relations, development and event management.
"We look forward to Bob's arrival and we have great anticipation that he will be able to continue to grow the university's relationships with the community," Altenkirch said. "These relationships are crucial in our efforts to enhance the excellence and stature of our campus, particularly in student performance and research opportunities."
At UT-Chattanooga, Bob was responsible for development, alumni relations, university relations, and WUTC, UT-Chattanooga's National Public Radio affiliate.
"The opportunity to join an outstanding national university is an honor," Lyon said. "I look forward to working alongside the faculty and staff to reach new levels of service to our students and to all the stakeholders in our mission. Additionally, my wife and I are excited to become engaged in the broader community."
He directed the university's $65 million campaign, which surpassed that goal when more than $80 million in gifts was raised. Prior to UT-Chattanooga, Bob served as associate vice chancellor of university development at Vanderbilt University, where he had responsibility for major gift fund raising and participated in a university-wide campaign.
As executive director of the foundation, he was responsible for managing the foundation's $90 million endowment, and an $80 million bond that financed a student housing project.
For more information,
contact Ray Garner
256.824.6397 (256.UAH.NEWS)
ray.garner@uah.edu