It's a Family Affair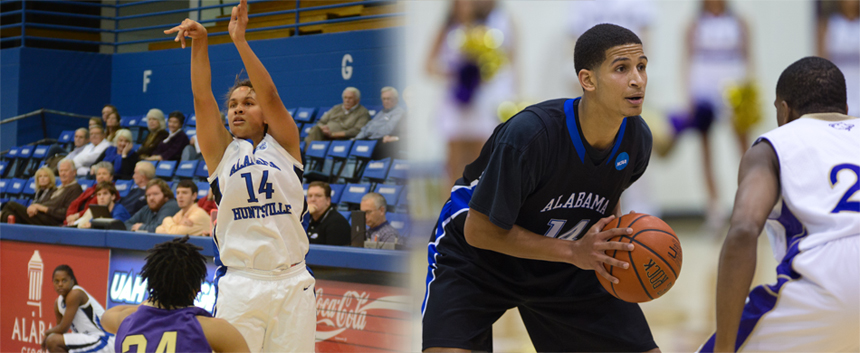 HUNTSVILLE, Ala. (March 8, 2012) — Opposing coaches have tried for 15 years to find a way to stop No. 14 on the basketball team at The University of Alabama in Huntsville.
It started in 1996 when Joe Smith began his career with the Chargers. He wore No. 14 and performed so well that he was provided and made the most of a chance to play professional basketball. He continues adding to a lengthy pro career, this year displaying his talents in Argentina.
In 2002, his brother, Jason, put on the No. 14 UAH jersey and became the next unstoppable Charger. Jason is still playing professional basketball in Germany.
The nightmare has not ended for opposing coaches. In fact, the problem has become twofold. Jaime Smith - yes, another of the Smith brothers - has become the target of opposing defenses. The junior guard leads the Gulf South Conference in scoring and a few other categories. His sister, Jordan, is a sophomore and is among the conference's best women's player. She leads the team in scoring, three-point field goals and assists. As you probably guessed, they both wear No. 14.
"The No. 14 jersey has just been a tradition since Joe started played at an early age," said Joseph Smith, the father of the four UAH standouts. "Joe started wearing it and it just got passed down from there."
Those who regularly attend UAH games have seen another constant. The Smiths rarely miss a game, home or on the road.
Joseph and his wife, JoAnn, have made the trips from their Hoover home constantly since Joe's freshman year in 1996. The younger kids tagged along in those earlier years.
"We've worn out a couple of cars, and we've seen hundreds of games," Joseph Smith said. "But we're not going to have them forever. Taking off early from work and all the driving, it's well worth it. We love seeing them play and grow."
Jordan admits now that she was not always a fan of the trip from Hoover to Huntsville. Memories of those trips almost caused her to look elsewhere for her college career.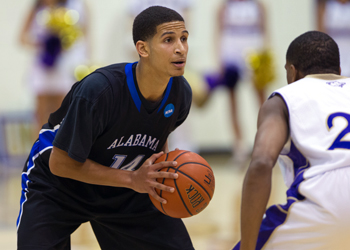 "I hated those trips because I got car sick quite often," she said. "In the back of mind, I was convinced that I would be sick all the time if I went to school there. Obviously, that's not the case. I love it here at UAH, and having my brother here is nice."
The family has roots in New Orleans. JoAnn, a telephone company engineer, was transferred to the Birmingham area when Joe was 8. They have lived in Hoover, which is just outside Birmingham, since that time.
All the children were active in youth league programs in Hoover – all of them. The boys played football, baseball, basketball and tennis. Jordan younger sister Jade played everything available to them, too.
Joseph coached several of their teams, putting down a foundation that still serves all of their children well.
"I loved basketball coming up," he said. "I was a shooting guard, but I was never as good as them. I was mainly into music. I was a musician and played the trumpet. I even had the chance to play on the Tonight Show. I've been teaching music in Birmingham schools and love that, too.
"But I enjoyed coaching them when they were younger. We had some great times. I was able to introduce them to it and they're all good. I can sit back now and just enjoy watching them."
Joe's senior season attracted a lot of interest from college coaches. "He was on a (recruiting) visit to North Alabama, and they happened to be playing UAH that night," Joseph Smith said. "Being two rival schools, UAH stepped up recruiting Joe. They were recruiting quality kids with a lot of character. They were also known for their academics, so it just worked out for Joe to go there. And we were happy to see the type kids he would be hanging around. Plus, they have a quality program that continues to get better."
It was the beginning of a family affair that has helped transform the Chargers into a national powerhouse in both men's and women's basketball.
Like Joe, Jason earned all-American honors at UAH, which helped him get noticed by professional teams.
Now, Jaime and Jordan are leaving their marks. Jamie has topped 1,000 career points as a junior this year. He has led the conference in scoring much of the season as well as three-pointers made and three-point field goal percentage.
As you might expect, things couldn't be going much better for him or the nationally ranked Chargers.
"It's been great," Jaime said. "For a long time, I didn't know if I would get this chance. I was a late bloomer. I was 5 foot 2 inches tall as a freshman and 5 foot 11 as a senior. I've grown three more inches since I've been at UAH.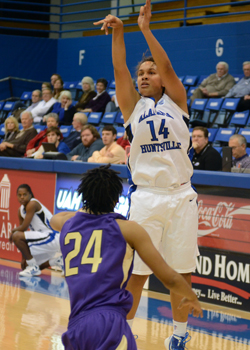 "I wasn't getting a lot of interest, but Coach (Lennie) Acuff came to one of our games and I happened to have played pretty well that night. He knew me from my brothers, so he told me he wanted me to come here. When I came here to visit, I knew I wanted to play here. Now, I'm having the time of my life."
Jaime, who is majoring in management information systems, gives a lot of credit to his teammates for making the experience "truly amazing." He also hasn't forgotten what his parents and brothers did for him.
"I've always looked up to my older brothers and always wanted to be like them," Jaime said. "We're such a close family. I talked a lot to my oldest brother because he was the one who did all this himself. He set the example for us and fought his way to the top. They've all been important to me, though. They believed in me. They've always been in my head, hyping me up and letting me know I could do it."
Joe played five or six seasons in Italy, playing in one of Europe's most competitive leagues. "I flew out to watch Joe play one time," Jamie said. "It really motivated me to know what it takes to get to pro basketball. It made a big impression on me. That's something I would love to do when I graduate."
Like his older brothers, Jamie said he has tried to be there for Jordan as well. He said he never tried to push her to UAH, but told her the truth when she sought him out for advice.
"She asked me if it was good, and I told it was great," Jamie said. "I didn't try to persuade her, but I'm glad she's here. I don't get in her business, but she knows I'm here if she needs me. We'll even go to the gym after practice or something and work on some aspect of her game that she wants to improve. I enjoy that a lot."
Jordan, a math major, enjoys having her brother nearby, too. "It's nice to be here with him," she said. "Being able to play college basketball is exciting, but it's even better to play and then come back out and watch my brother play."
Jordan said she considered other offers when contemplating her college choices, but "following in the tradition of my brothers" wasn't a hard choice.
"Having three brothers who were all good athletes made me competitive. They supported me and helped me in every sport I played growing up, and I still get that support. They tried to teach me how to do things right, and my dad taught me what he taught my brothers."
Jordan said she is trying to be an example to her younger sister as well. They talk often and "I just try to make sure she's doing what she wants to do and having fun. She's a good player."
In a few months after the games are over, all of the siblings will gather back at home in Hoover. It's unlikely they will have a lot of time for chatting.
"Well go to the gym and work out together," Jaime said. "We do that every summer, work out together and hold some summer campus. We just love basketball and being together. It's what we do."
For more information,
contact Ray Garner
256.824.6397
(256.UAH.NEWS)
ray.garner@uah.edu