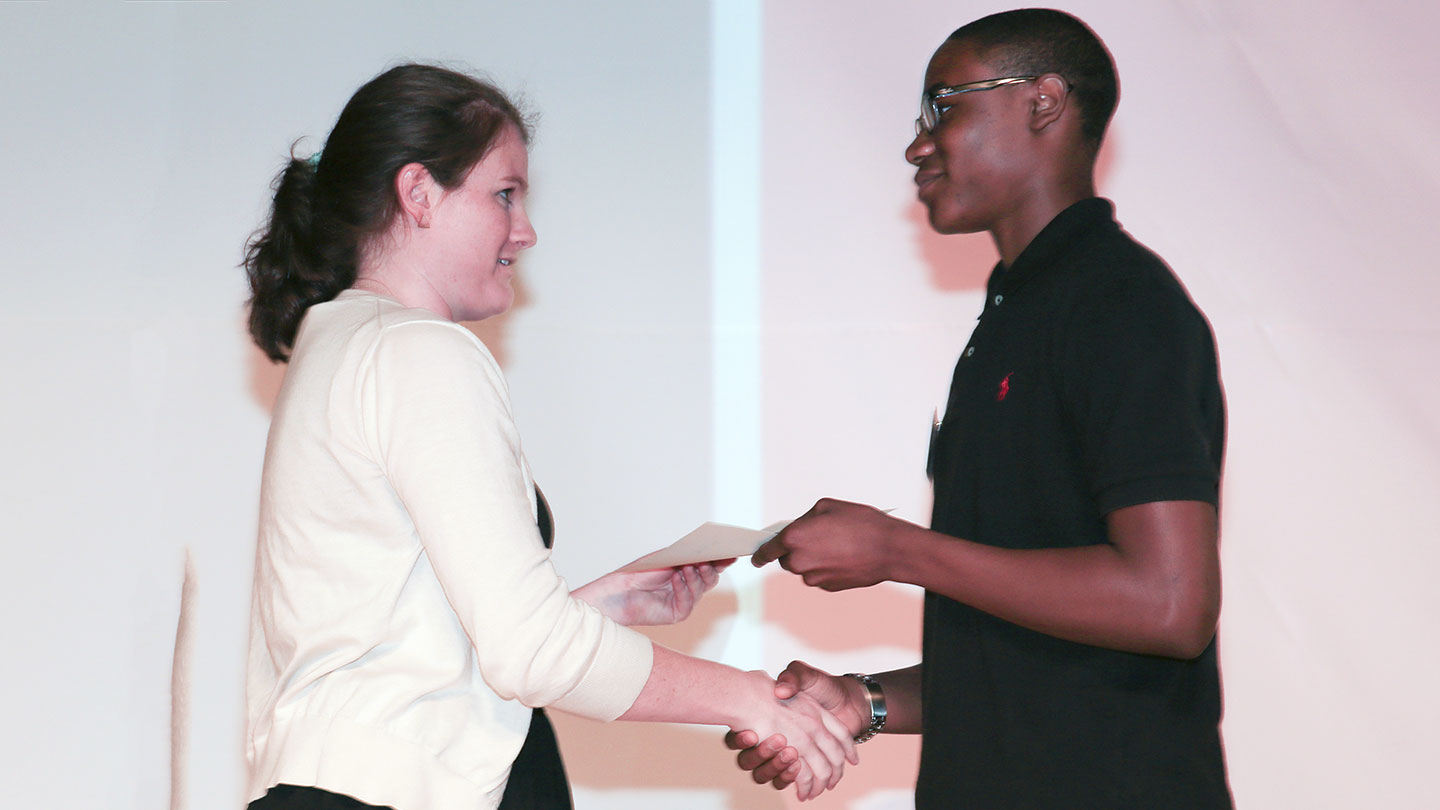 HUNTSVILLE, Ala. (June 30, 2014) — More than 70 area high school students from North Alabama participated in the fifth annual Huntsville CollegeFirst Advanced Placement (AP) Institute, hosted on the campus of The University of Alabama in Huntsville (UAH), June 9-26. The summer enrichment program is designed to prepare the state's high school students for the challenge of college-level advanced placement courses in mathematics, science and English.
This year's Huntsville CollegeFirst AP Institute was sponsored in part by Impact Alabama, A+ College Ready, the UAH Department of Biological Sciences and the Office of Diversity. Impact Alabama is a student service initiative dedicated to developing and implementing service-learning projects in conjunction with students from universities and colleges throughout the state of Alabama. Impact Alabama is housed and supported by The Center for Ethics and Social Responsibility at The University of Alabama (UA).
"UAH students, through the Office of Diversity, have been integral partners and participants of the Impact Alabama initiatives from the beginning of the programs. First was Focus First, then Save First and now College First. It is a win-win for all concerned, the UAH students and the underrepresented populations they serve," said Delois H. Smith, UAH vice president for Diversity.
Five UAH students served as mentors for the program. They were: Jasper Morrow – AP Biology; Ben Brackney – AP Calculus; Dinsimore (Trey) Robinson – AP Calculus; Ayah Abu-Spetani – AP Chemistry; and Garrett Caraway – AP English Language.  High school students from Huntsville City, Madison County, and Marshall County school districts participated in this year's institute.
High school students were placed in one of four advanced placement subjects (biology, calculus, chemistry,  or English Language) for the full three weeks of the program. They followed a consistent schedule for the duration of the institute. Students attended lectures with area AP teachers, and worked with college mentors on either labs (if they are in the biology or chemistry sections) or problem sets/exercises (if they are in calculus or English Language sections). Additionally, a variety of afternoon activities for students included campus tours, 3-D printing presentations, honors college lectures, and much more.
Students who participated in the program attend A+ CollegeReady schools and are enrolled in at least one AP course in the upcoming school year.
"The UAH Department of Biological Sciences provided Huntsville CollegeFirst with lab space and numerous supplies throughout the summer institute, said Kelsi Hobbs, Impact Alabama regional coordinator. "Furthermore, the chair of the department, Dr. Debra Moriarity, was extremely helpful in setting up an afternoon presentation on 3-D printing for our students – a presentation they absolutely loved."
This year, CollegeFirst awarded a $500 college scholarship to AP Calculus student André Bone, who had perfect attendance and outstanding performance at the institute. André attends Bob Jones High School in Madison, Ala.
The A+ CollegeFirst service-learning course was developed by the UA Center for Ethics and Social Responsibility in partnership with Impact Alabama and A+ College Ready.
UAH will host the sixth annual Huntsville CollegeFirst Advanced Placement (AP) Institute in June 2015.
EDITOR'S NOTE: The complete list of participating high schools includes: Columbia, Grissom, Huntsville High, Lee, New Century, Arab City, Hartselle City, Bob Jones, Buckhorn, Hazel Green, Madison County, New Hope, Sparkman, Asbury, Brindlee Mountain, Douglas, and Kate Duncan DAR.
---
You may also be interested in: