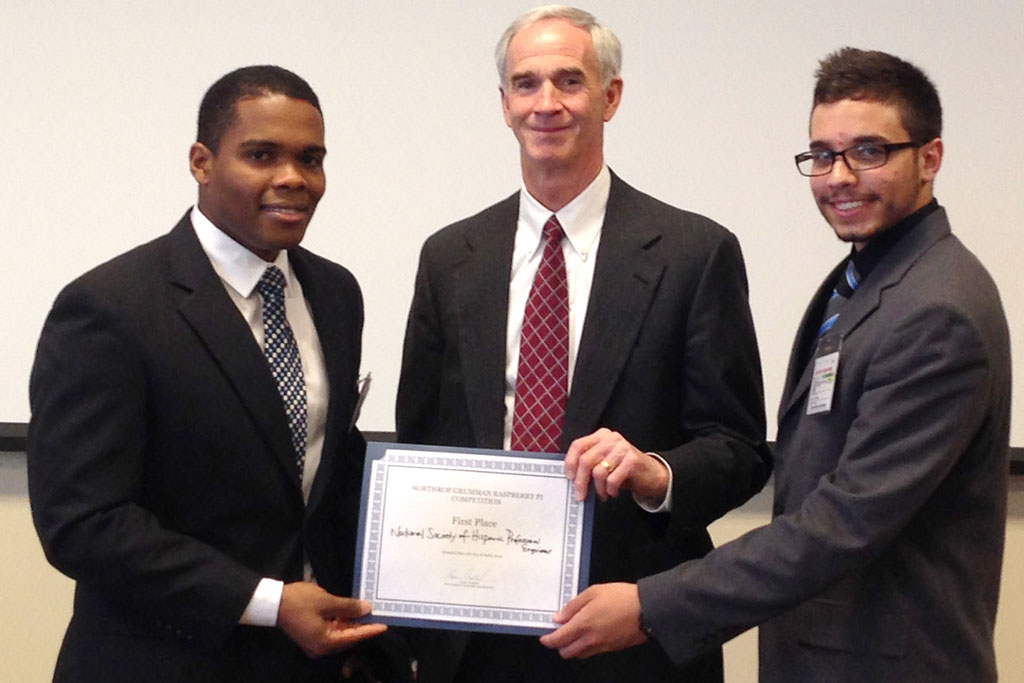 HUNTSVILLE, Ala. (May 14, 2014) – Christian Acevedo and Victor Tapia, two students from The University of Alabama in Huntsville (UAH), took home the top prize for their winning entry in last month's first-ever Northrop Grumman Raspberry Pi Competition. Named "Raspberry Pi Sensor Suite," their system was designed to gather temperature data with respect to geographical location.
"Not only was the project well thought out and the technology well developed, but the presentation was excellent," says Jon Hansen, a campus recruiter at Northrup Grumman and the event's creator. "The judges felt like the content of the presentation, design of the slides, and professional delivery of the materials were professional quality."
The contest, which was conceived to promote creativity and learning in science and technology at the college level, challenged entrants to use a Raspberry Pi device to develop a technology of their choosing. That technology was then judged on several criteria, including originality of concept, reliability, user experience, complexity, and aesthetics.
Acevedo and Tapia initially learned about the event "on slightly short notice," says Acevedo, a freshman computer science major from Fort Carson, Colo. "Jon Hansen contacted us and let us know they were starting a competition, so we started up a team."
That made their first goal to recruit members from the Society of Hispanic Professional Engineers, which Tapia had co-founded the previous semester. Then, says Acevedo, "we each contributed ideas and filled out a decision matrix and voted" on the project they wanted to pursue.
"The Sensor Suite idea was the most innovative," says Tapia, a senior mechanical engineering major from Panama. "You could have a soldier carry it in his pocket and gather data to do a statistical analysis of the region based on thermodynamics."
But as the team began the next phase of the project – programming the Raspberry Pi – it began to suffer from attrition. One by one, members began to drop out as the reality of balancing a full course load with working on the project started to take its toll.
Acevedo could easily have been one of them. Not only is he a full-time student, but he also works two jobs. Instead, he kept his eye on the end game. "Work hard now and in the long run it will help me – I kept that in the back of my head," he says. So he stayed, a display of commitment that in turn inspired Tapia.
"Christian motivated me," says Tapia. "I told him I'd do everything I could to help out and make it succeed." And together, often by forgoing sleep, they completed the Sensor Suite and compiled the PowerPoint presentation required.
Work hard now and in the long run it will help me – I kept that in the back of my head.
Christian Acevedo
At last the day arrived and it was time to present their technology to the competition's judges. "That was the biggest part – trying to sell our idea because they're already doing this with satellites," says Acevedo. Instead, they emphasized what makes the Sensor Suite unique – the portability of the Raspberry Pi platform.
"It's better than satellites because they have a given orbit, but this can gather points they can't reach," explains Tapia. He and Acevedo also highlighted the possible use of the Sensor Suite by soldiers in the field, knowing that Northrop Grumman partners closely with the Department of Defense.
It was a savvy approach. "We did a good job selling it!" says Tapia. "After we presented it, the director mentioned that they were doing something similar on a larger scale, so I think that gave us an advantage. That really impressed him."
Adds Hansen, "the Sensor Suite is a project that could lead to a product fielded by our military. Their ideas for further development make it a tool that can provide information to soldiers and commanders that would provide more and better real-time information regarding battlefield conditions."
Both students were in fact offered an opportunity to develop the Sensor Suite further, but both decided to pursue other opportunities. Acevedo says he plans to enter the military and eventually become a military intelligence systems maintainer/integrator, while Tapia is considering staying at UAH for a master's degree in electrical engineering.
Still, it's an experience they are grateful for. "We gained a lot of great connections and I learned a lot," says Acevedo. "A classroom would have had the same aspects but not to the same degree." And as for those sleepless nights?
 "What's sleep?" he says with a laugh. "It was definitely worth it!"
---
You may also be interested in: