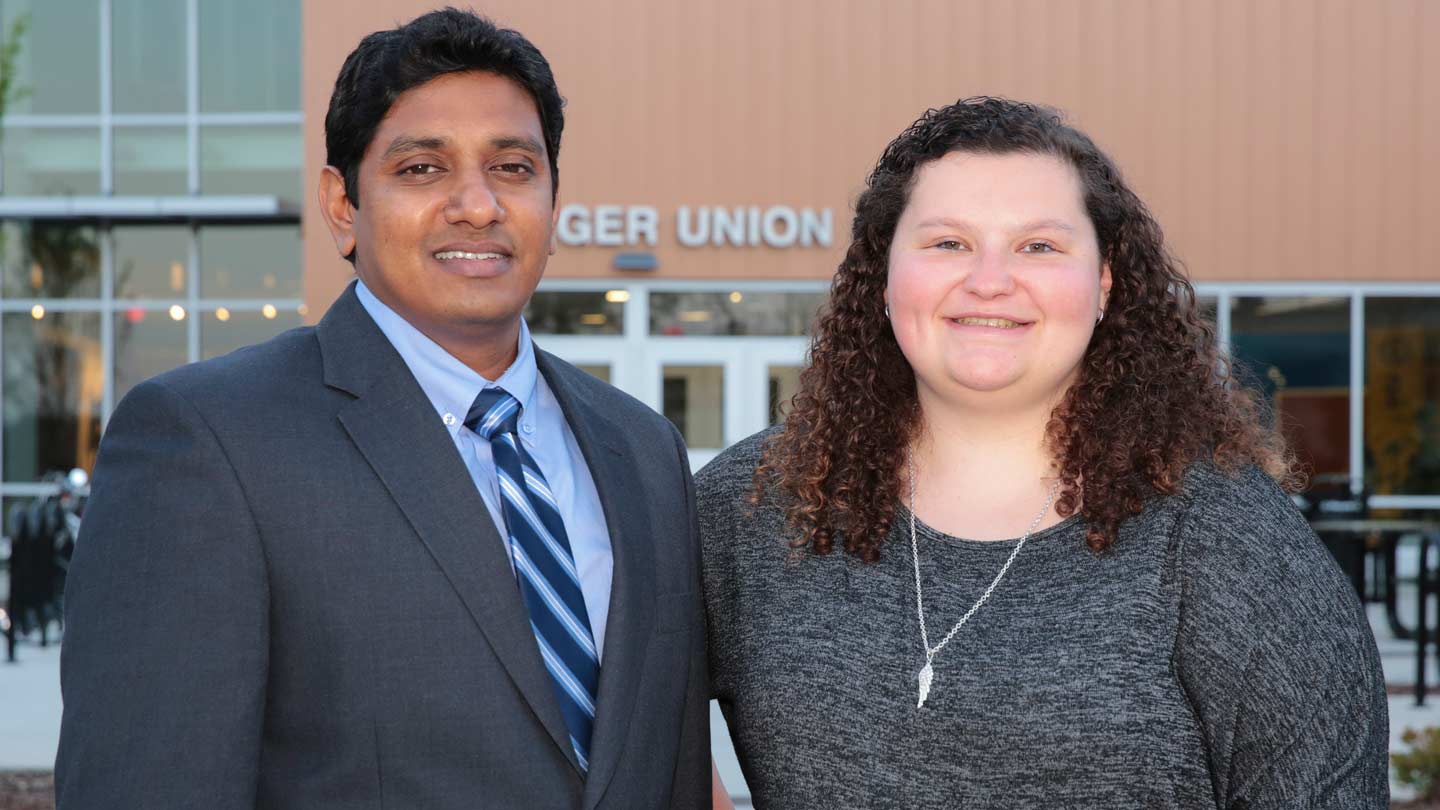 HUNTSVILLE, Ala. (May 12, 2014) – A new group of elected representatives was sworn into the Student Government Association (SGA) at The University of Alabama in Huntsville (UAH) last month. Fourteen will serve on the SGA's executive board, while the remaining 26 will serve on the SGA senate.
"I'm really excited by the caliber of students who ran for and were chosen to serve on the SGA for the upcoming academic year," says Nandish Dayal, a nursing and chemistry double major who will be serving a second term as president. "And I'm very much looking forward to building on all of the positive changes we laid the groundwork for this past year."
To ensure adequate representation, each of the university's five colleges and each class year has a designated number of seats; there is also one graduate seat. These, in turn, are all overseen by an executive board consisting of a president, vice president, vice president of finance, director of organizational funding, a consul, a scribe, four program coordinators, a faculty liaison, a media director, a disability support liaison, a parliamentarian, and a health and safety officer.
The SGA's primary responsibility is to advocate on behalf of UAH's students and work with the faculty, staff, and administration to address and resolve any issues that impact the student experience on campus. Pursuant to that, the association also sponsors a number of programs and initiatives to instill a sense of community and campus involvement. These include Trunk or Treat, the Reach for the Sky annual balloon launch, Higher Ed Day, the Big Event, and the ChargerCycle bike-share program.
2014 – 2015 SGA Representatives
(Name, hometown, major, SGA seat)
Nandish Dayal
Suva, Fiji
Nursing/Chemistry
President
Taylor Bono
Syracuse, NY
Biology/Pre-med
Vice President
Ezekiel McBrayer
Vinemont, AL
Accounting
Director of Organizational Funding
Paul Rowland
Nolensville, TN
Finance
VP of Finance
Garrett Ake
Athens, AL
Electrical Engineering
Freshman
Brittany Bailey
Huntsville, AL
Chemical Engineering
Engineering
Brittany Black
Harvest, AL
Chemical Engineering/Chemistry
Engineering
Kadeidra Bowie
Birmingham, AL
Accounting
Business
Rachel Byrd
Madison, AL
Biology/History
Liberal Arts
Haley Davis
Huntsville, AL
Biology
Science
Victoria Eccles
San Luis Obispo, CA
Electrical Engineering
Engineering
Chris Finch
Madison, AL
Nursing
Nursing
Austin Finley
Brownsboro, AL
Aerospace Engineering
Sophomore
Michael Gvodas
Douglassville, PA
Mechanical and Aerospace Engineering
Sophomore
Hisham Haqq
Madison, AL
Business
Business
Craig Hunt
Omaha, NE
Mechanical Engineering
Engineering
Ayesha Iqbal
Madison, AL
Biology
Senior
Chanty Jackson
Selma, AL
Accounting
Business
Jacob Jones
Cullman, AL
Chemical Engineering
Engineering
Graham Kirchner
Kwajalein, Marshall Islands
Biology, Pre Med
Science
Michael Maddox
Hayden, AL
Mechanical Engineering
Sophomore
Krishan Magan
Rogersville, AL
Mechanical Engineering
Graduate
Claudia Mesnil-Baez
San Juan, Puerto Rico
Education and Spanish
Liberal Arts
Alexander Mintari
Waterford, MI
Business Administration
Freshman
Evan Mitchell
Santa Fe, TN
Civil Engineering
Engineering
Kristin Monaco
Huntsville, AL
Nursing
Junior
Luke Murphy
Gaylesville, AL
Civil engineering
Junior
Reem Musa
Huntsville, AL
Nursing
Nursing
Nhu-An Nguyen
Madison, AL
Biology/Chemistry
Science
Kareem Omar
Nicholasville, KY
Physics and Aerospace
Senior
Dylan Owens
Harvest, AL
Accounting
Business
William Parsons
Madison, AL
Spanish and Computer Science
Liberal Arts
Komal Patel
Houston, TX
Biology/Chemistry
Science
Taylor Reed
Harvest, AL
Mechanical Engineering
Engineering
Brittani Searcy
Jackson, OH
Aerospace Engineering
Senior
Harsha Srikakolapu
Hyderabad, India
Biology
Science
Brandon Straight
Chester, IL
Aerospace Engineering
Engineering
Michele Tisler
Philadelphia, PA
Nursing
Nursing
Henry Wheaton
Reading, England
Chemical Engineering
Junior
Elliot Wheaton
Reading, England
Chemical Engineering
Freshman
---
You may also be interested in: